Donald Trump's One Weird Trick to Win the GOP Primary
It's getting indicted. Twice.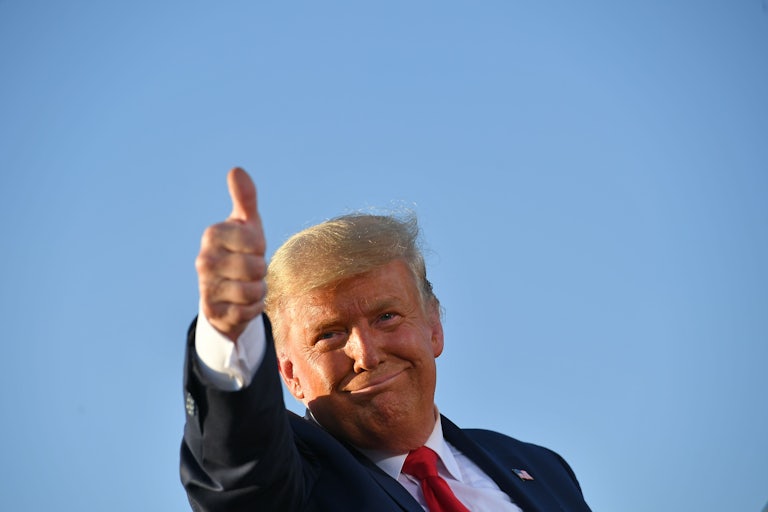 MANDEL NGAN/AFP/Getty Images
Donald Trump in 2020
Donald Trump has been indicted twice this year: once in April for hush-money payments sent during the 2016 election and again in June for mishandling of classified documents. Rather than make him a political pariah, the charges could send him straight to the Republican presidential nomination.
Republican consultants and activists believe that the indictments have energized Trump's supporters, and even people who had until now been undecided, The Messenger reported Monday. The outlet looked specifically at Iowa, which is anticipated to set the stage for the rest of the Republican race.
Previously, many Iowans had backed Florida Governor Ron DeSantis or South Carolina Senator Tim Scott. But since the indictments, voters have rallied around Trump.
"The majority of Republicans here are for Trump after this frickin' legal lynching. That's all it is," state resident Merle Miller told The Messenger. "People here take the indictment personally."
Trump has capitalized on the indictments, using them to stoke outrage—and rake in donations. His campaign announced in mid-June that it had raised $6.6 million in the week after his second indictment, in which the Department of Justice alleged that he had stored highly sensitive documents relating to national security in a bathroom. He raised more than double that in the days after he was indicted in April.
The former president has also surged in the polls since the second indictment. An NBC poll released on June 25 found that Trump had 51 percent support, a substantial lead over DeSantis, the current runner-up.
It is, of course, still nearly a year until the Iowa caucuses. Any number of things could change by then. But it's safe to say that Trump has not been hurt by the indictments nearly as much as some expected.