Because of Course They Are: Right Freaking Out With Obama Chef Conspiracy Theories
The right is ginning up some bizarre accounts of Tafari Campbell's death, based on little more than their fevered imaginations.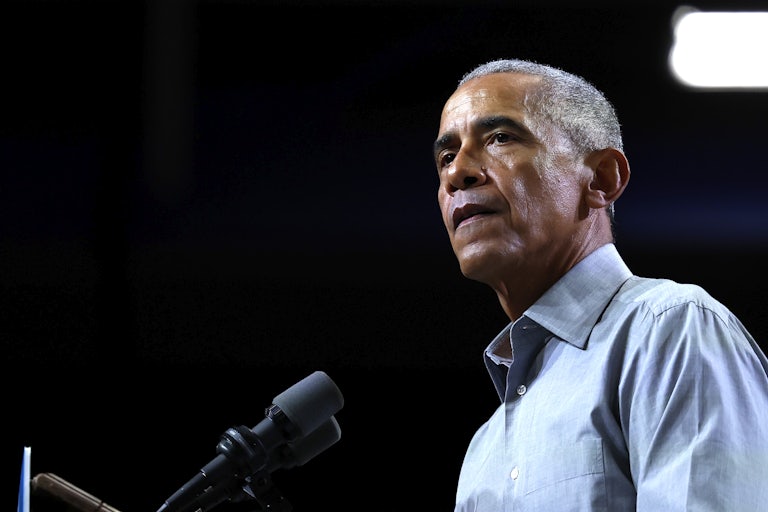 Anna Moneymaker/Getty Images
Barack Obama
The death of former President Barack Obama's personal chef has—as is now the usual—launched a wave of far-right conspiracy theories.
Tafari Campbell died while paddleboarding near the former president's home in Martha's Vineyard over the weekend, according to Massachusetts state police. Police received a call on Sunday evening about a male paddleboarder "who had gone into the water, appeared to briefly struggle to stay on the surface, and then submerged." Campbell's body was finally recovered on Monday.
But with little evidence on hand, several major right-wing accounts have ginned up some bizarre accounts of Campbell's death, implying that something nefarious was actually at play.

Ian Miles Cheong, known for his role in GamerGate and for promoting truly deranged policy proposals (like capital punishment for all shoplifters), tweeted that Campbell's death was "strange."
"What do you think really happened?" he asked of his nearly 700,000 followers.
Liz Crokin, a Trump supporter and QAnon follower, implied that Campbell met an untimely end because he was "employed at the White House for Obama's private party where they flew in $65K worth of hotdogs and pizza."
Without getting too into conspiracy theory weeds, this argument, naturally, is not just about hot dogs and pizza—rather, it is yet another popular right-wing theory loosely rooted in the "Pizzagate" conspiracy of yesteryear. Many QAnon believers think that Obama actually spent $65,000 on child prostitution, based on an unsubstantiated and leaked email chain from 2009 between employees of a private company that provided food for an Obama-hosted Super Bowl party held at the White House in 2009. (You can read a full debunk here if you're really interested in all of the complicated mental gymnastics involved.)
Turning Points USA's Benny Johnson held an entire Twitter live session on Tuesday titled: "Obama Lied?! Democrat 'Body Count' Exposed." Johnson's unhinged views are far too voluminous to fully summarize here: He has called affirmative action "Nazi-level thinking," demonized trans people, and claimed Covid-19 was a "woke virus" meant to target Trump.
But more than anything else, Johnson loves a good Obama conspiracy theory. In 2017, the conservative news site The Independent Journal Review demoted Johnson after he claimed that Obama pressured a Hawaii federal judge to rule against Trump's Muslim ban.

"No matter what the government or media reports about Obama's chef who died on his property—I won't believe a word of it," said the right-wing internet troll Catturd to his nearly two million followers. "Why would they start telling the truth now?"
Again, these right-wing accounts have not actually surfaced any evidence to back up their odd claims about Campbell's death.
Massachusetts state police noted that multiple agencies assisted in the search for Campbell, including "Edgartown Fire and all other island fire departments; local police; State Police patrols, Air Wing, and detectives, the Dukes County Sheriff's Department and the Coast Guard."
But the right is far too invested in its conspiracy theories about the country's first Black president to accept that Campbell's death might be more ordinary than their fevered imaginings.
Obama has been the subject of countless conspiracy theories, most prominently that his birth certificate was fake, he was really born in Kenya, and he's actually a practicing Muslim. Donald Trump, the front-runner in the Republican Party, helped push this birther movement for years, including well into his presidency.