McCarthy Brazenly Defends RFK Jr. After Racist Covid Conspiracy Theory
The House speaker blasted Democrats for criticizing Israel, and then excused RFK Jr.'s antisemitism.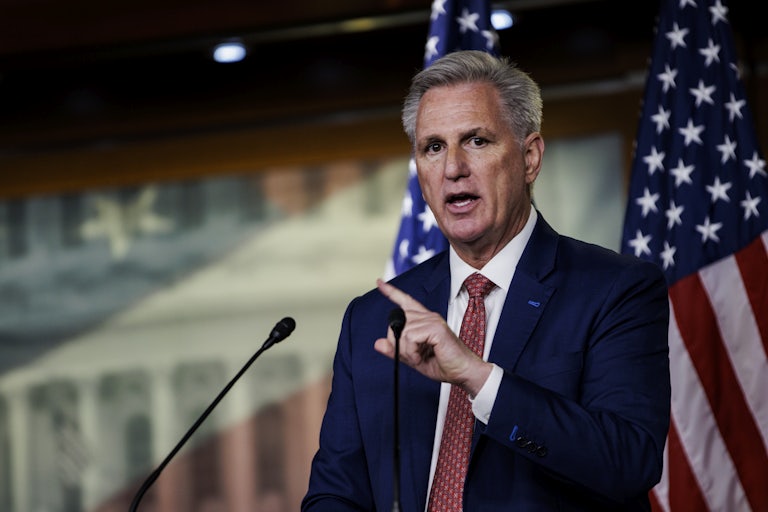 Samuel Corum/Getty Images
House Speaker Kevin McCarthy
Kevin McCarthy thinks that speaking out even remotely against a state that is committing apartheid is morally objectionable—and even worth censure. He also thinks RFK Jr. saying Covid-19 was specifically designed not to harm Jews is tolerable. Got it?
The speaker of the House made his stance clear on Monday while answering questions from the press.
McCarthy called out the Democrats, telling the party to "take action" against members like Representative Pramila Jayapal, who called Israel a "racist state." Then, in the next beat, McCarthy defended inviting to Congress a presidential candidate who has spread antisemitic conspiracy theories.
As a reminder, last week, Robert F. Kennedy Jr. claimed that Covid-19 was "targeted to attack Caucasians and Black people," while sparing those who are "Ashkenazi Jews and Chinese."
Conversely, as a reminder, Israel has committed decades of human rights abuses, engaged in land dispossession and home demolition, upheld separate systems of law, and maintained a militarized police state against Palestinians.
McCarthy finds criticism of the latter deplorable, but apparently it's still OK to welcome RFK Jr., a Republican pawn spreading antisemitism, to a House committee meeting next week on the federal government's role in censorship.
"I don't think censoring somebody is actually the answer here," said the House speaker behind the successful Republican-led effort to remove Representative Ilhan Omar from the Foreign Affairs Committee for the high crime of speaking out against Israel's treatment of Palestinians.
The episode comes as a few Democrats speak out against the U.S. Congress rolling out the red carpet for Israeli President Isaac Herzog, who once called Jewish intermarriage "a plague."

Herzog is set to deliver a speech to a joint session of Congress Wednesday, where he will stand in front of Vice President Kamala Harris, who, as Palestinian-American writer and political scientist Yousef Munayyer pointed out, is married to a Jewish man.