RFK Jr. Sure Has a Lot of Skeezy GOP Donors for Someone Running as a Democrat
The right loves Robert F. Kennedy Jr.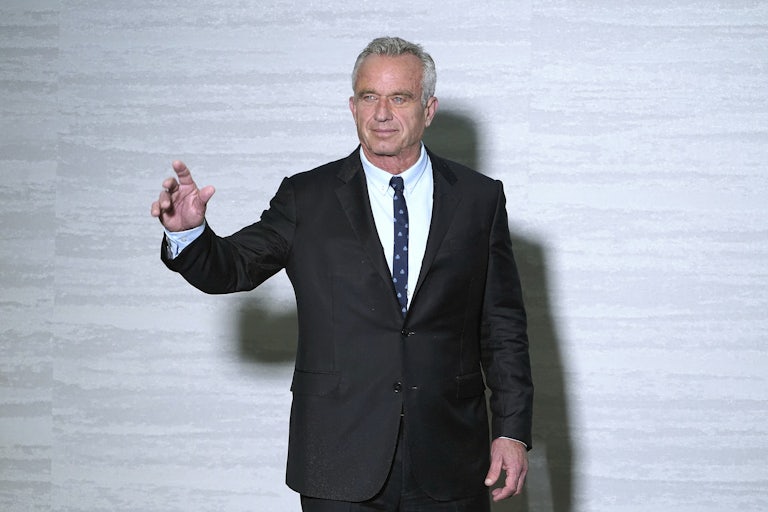 John Lamparski/Getty Images
Robert F. Kennedy Jr.
Robert Kennedy Jr. made a lot of people scratch their heads when he announced he was running for president as a Democrat. But even more bizarre is his list of donors, who are almost entirely Republican.
The bulk of Kennedy Jr.'s donors have previously given only to Republican candidates, according to the investigative newsletter Popular Information. Despite the conspiracy theorist and anti-vaxxer running on the Democratic ticket, less than a quarter of his donors have a history of donating blue.
Kennedy Jr.'s campaign received the maximum donation of $6,600 from 96 individuals through the end of June. Among those donors, 37 previously have only given to Republican federal candidates, according to a Popular Information analysis of Kennedy Jr.'s Federal Election Commission filings. Thirty have no history of political donations, and only 19 of those donors are Democratic.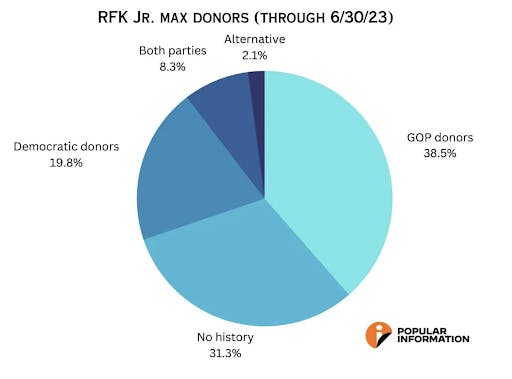 One donor is Mark Dickson, an aerospace businessman who has donated more than $450,000 to the GOP since 2015. A hefty $400,000 went to Donald Trump's committee Trump Victory alone. Another donor is Keith Sheldon, a car dealership executive who donated to Trump in 2016 and 2020, as well as to Trump-endorsed candidate Herschel Walker in 2022.
Kennedy Jr. has also received donations from Purple Good Government, a PAC controlled by David Sacks. Sacks moderated the bizarre Twitter Space between Kennedy Jr. and Sacks's good friend Elon Musk, and he has publicly backed Florida Governor Ron DeSantis's presidential bid.
It's actually no surprise that the right loves Kennedy Jr. He has openly embraced many of their talking points, such as that vaccines cause autism and that Covid-19 is the fault of Chinese people and Jewish people. He also initially agreed to speak at the far-right Moms for Liberty summit, although he ultimately backed out.