Georgia Prosecutor to Give Donald Trump the Label He's Deserved for Years: Racketeer
Indictment number four is coming for Trump.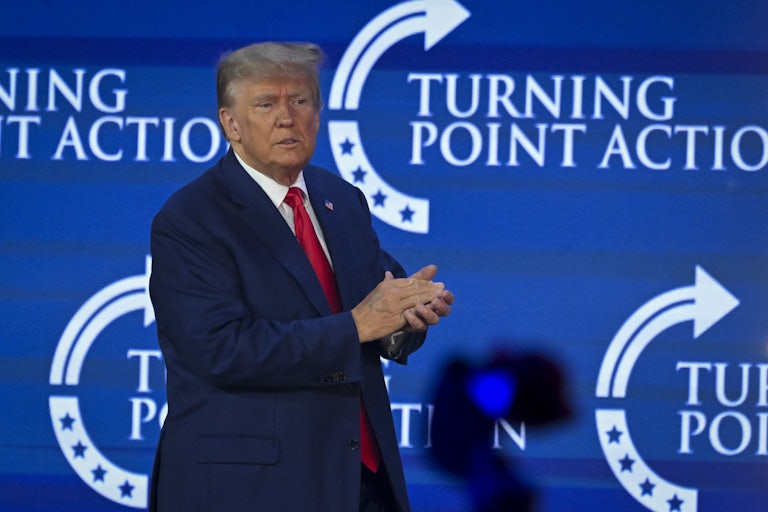 Donald Trump, who has been indicted twice and expects to be indicted a third time any day now, is already staring down the barrel of his fourth indictment. And the latest one could include racketeering charges.
Fulton County District Attorney Fani Willis has been investigating Trump for nearly two years over his role in efforts to overturn the 2020 election. She is expected to start seeking indictments in a matter of weeks.
And one of those indictments could be a "sprawling" racketeering indictment, The Guardian reported Friday, citing two anonymous sources who were briefed on the pending charges. Willis apparently has enough evidence to show Trump had created an "enterprise," according to state law.
Georgia's racketeering statute requires a pattern of activity based on at least two "qualifying" crimes. Willis's indictment will reportedly be predicated on charges of influencing witnesses and computer trespass.
It's not clear what exactly those charges relate to, but influencing witnesses could refer to Trump's phone calls begging Georgia Secretary of State Brad Raffensperger to "find" 11,780 votes—the exact amount needed to flip the state's election results to Trump.
Computer trespass could include the breach of voting machines in Coffee County, which is a few hours south of Fulton. A group of pro-Trump people, paid by Trump's then-lawyer Sidney Powell, accessed voting machines at the county's election office. They copied sensitive data and uploaded them to a site for election deniers to access and use to try to prove the election had been rigged.
Coffee County is not in Fulton's jurisdiction, but the racketeering charge would let prosecutors point to the data breach as part of a pattern of behavior to corruptly keep Trump in office.
Trump is scrambling to fend off the growing pile of indictments. Last week, he sought a new court order to essentially have the Georgia case thrown out. His legal team also argued to postpone the trial for how he handled classified documents until after the election. That trial date was just set for May 2024.