Trump Is an Extremely Dumb Fascist
The latest criminal indictment highlights his idiocy—but also the threat he still poses to American democracy.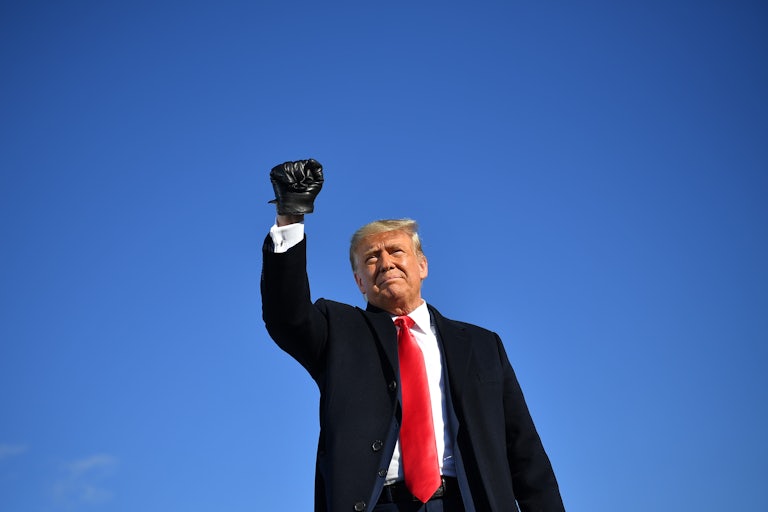 MANDEL NGAN/AFP/Getty Images
Fascism is not a political program. It's different from every other -ism in this way. Capitalism means something specific: private ownership of the means of production. Communism means the opposite: state (or worker) ownership of the means of production. Socialism is, or used to be, a softer form of communism. It's hard to say what it means now, and by the way, Bernie Sanders and Alexandria Ocasio-Cortez are not democratic socialists. They're social democrats—Google the difference, and you'll see what I mean.

Anyway. Fascism is a sensibility far more than it is a political program. The word comes to us from ancient Rome, where the fasces was a bound bundle of wooden rods with an ax (or sometimes two) that symbolized political power. It wasn't always bad; next time you visit the Lincoln Memorial, look below Abe's hands—those are fasces. They were literal back in Rome, and Cincinnatus, who served as dictator for just 16 days, is famous for having spurned them. He remains one of the few leaders in history who refused absolute power and returned to private life, the other prominent one being our own George Washington, who easily could have made himself dictator in the mid-1780s but refused to do so. The day in 1783 when he stopped off in Annapolis, where the Continental Congress was meeting, and resigned his military commission is the day the United States became a republic.
Fascism developed its modern meaning in Italy in the 1920s, under Benito Mussolini. He coined the term in 1919. He ascribed to it certain attributes—absolute state power over private enterprise, racial superiority of the majority group—but it really revolved around the power of the dictator, the dictator's emotional connection to his followers, and their complete obeisance to him. It's mystical and hard to describe. It can't be defined in any constitution. It's just something you can see and feel. I once saw a clip of Adolf Hitler giving a speech. After he was introduced and the applause quieted, he stood silent at the podium for almost a minute before he started speaking, quietly. That minute was fascism.
That is what Donald Trump wants. He already has it, in the sense that his rallies are fascist rallies. His backers surrender themselves to him in a way that small-d democratic admirers of Barack Obama and George W. Bush did not. This is why his poll numbers among Republicans go up and up. He has cemented the mystical bond. What he lacks, for now, is the power. We're in a race now between republicanism, rule by citizens for the common good, and fascism, rule by a dictator for the good of his followers.
In a democratic society, the law is the most efficient means by which to arrest fascism. This is why Trump faces indictments. It's the surest way to stop him. Smart fascists know this, and they either stay within the law or, perhaps paradoxically, violate it so flagrantly that they end up redefining what "the law" even is. Fortunately for us, Trump is a dumb fascist, and his ignorance may prove to be his Achilles' heel. We also—again fortunately—have a system and set of laws and traditions that are stronger than those of, say, Weimar Germany, so Trump hasn't yet been able to pollute them, although if he is reelected, he certainly will.
The new felony charges announced Thursday evening by the office of special counsel Jack Smith are simultaneously shocking and unsurprising. It stands to reason that Trump wanted the computer server that hosted Mar-a-Lago security video deleted. Yes, it's especially ironic, given the way he carried on about Hillary Clinton's server in 2016, but this too is a key attribute of fascism: Fascists do precisely the thing they accuse their opponents of doing. In August 1939, Goebbels accused the Poles of violence against Germans in the Danzig Corridor. It's the only way fascism can work; to get the people to believe the opposite of the truth. Even Trump, dumb as he is, instinctively knows this.
Look at his recent statements. "This is prosecutorial misconduct used at a level never seen before. If I weren't leading Biden by a lot in numerous polls, and wasn't going to be the Republican nominee, it wouldn't be happening. It wouldn't be happening.… But I am way up as a Republican and way up in the general election, and this is what you get."
He's not ahead of Joe Biden. It's a close race—disturbingly so—but, according to RealClearPolitics, Biden is narrowly ahead. And of course it's not prosecutorial misconduct. Grand juries—American citizens—indicted Trump, not prosecutors. The only prosecutorial misconduct in Trump's life was the laxity of the New York prosecutors who failed to nab him over the past 40 years. If they'd been doing their job, the nation might have been spared this turmoil.
With these next two indictments, assuming they happen, the mystical bond will grow deeper. Trump's lies will intensify; his movement will become more openly fascistic. The law is the surest way to stop all this. But even convictions won't end it. They'll keep him out of the White House, most likely, but the Republican Party has probably been permanently transformed. The next Trump can't wait to grab the fasces.
This article first appeared in Fighting Words, a weekly TNR newsletter authored by editor Michael Tomasky. Sign up here.