GOP Senator Admits Biden Bribery Tapes Might Not Exist After All
Chuck Grassley was at the forefront of pushing these claims to begin with.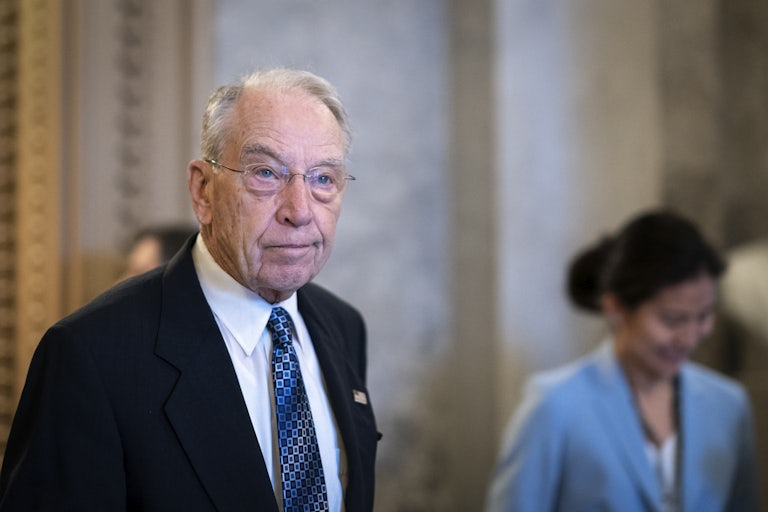 Drew Angerer/Getty Images
Senator Chuck Grassley
Republican Senator Chuck Grassley admitted that he doesn't actually know if the audio recordings that he said reveal Joe Biden accepting a bribe even exist.
Republicans have spent all week accusing the president of accepting a bribe from Ukraine (conveniently at the same time Donald Trump was arrested for stealing and hiding classified documents) and referring specifically to a set of recordings that prove their claim. The GOP learned about these supposed recordings as part of the House Oversight Committee's months-long investigation into the Biden family, which has yet to produce any actual evidence linking Biden to wrongdoing.
House members were allowed last week to see a redacted version of an FD 10-23, a form the FBI uses to note unverified information from confidential sources. Grassley had called Monday for the FBI to release the unredacted version of the form, which he said mentioned 17 audio recordings of Biden and his son Hunter Biden accepting a bribe from an executive at Burisma Holdings, a Ukrainian oil company where Hunter Biden served on the board for a few years.
But speaking on a podcast Wednesday, Grassley admitted he doesn't know whether or not the tapes are real.

"I'm oversight of the FBI," the Iowa Republican said, referring to his work on the Senate Whistleblower Protection Caucus.
"I want to know [if] the FBI, are you doing your work? I want to see your work. Have you listened to these tapes? And if you haven't, why haven't you? In other words, do the tapes even exist?"
Grassley isn't even the only Republican to acknowledge the tapes might not be real. Senator Ron Johnson told Fox News Thursday that "we don't know" if the tapes exist. House Oversight Chair James Comer, who has led the charge against Biden, said Wednesday he doesn't know if the recordings are "legit."
And yet these tapes have been the basis for almost every accusation leveled against Biden this past week. Republicans are pushing a conspiracy first started by Rudy Giuliani and Donald Trump that the Biden family accepted a $10 million bribe to remove former Ukrainian prosecutor Viktor Shokin in 2016 to stop a probe into Hunter Biden's role at the oil company Burisma Holdings.
This claim has been widely debunked by Ukrainian officials, U.S. State Department officials, American intelligence experts, and Burisma owner Mykola Zlochevsky.