House Republicans' Great Hope to Bring Down "Biden Crime Family" Was ... a Chinese Spy?!
Republicans' investigation into Biden family corruption just keeps falling apart.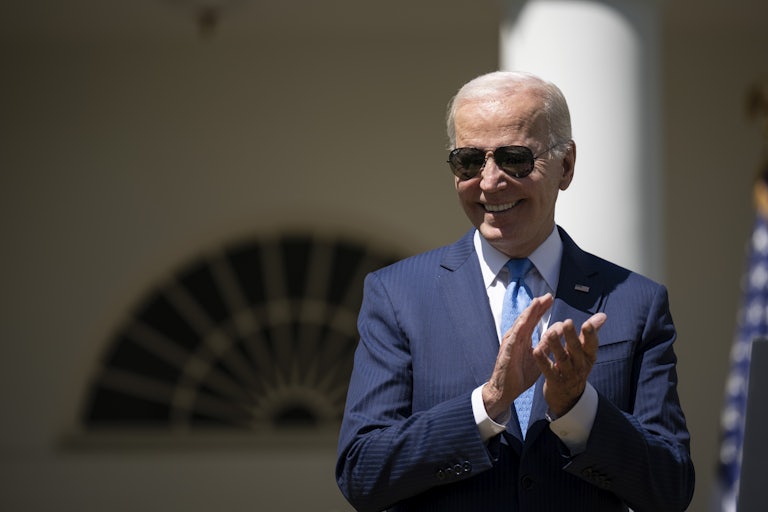 Drew Angerer/Getty Images
A key informant in the Republican investigation into the Biden family has been charged with acting as a foreign agent for China.
Gal Luft, the co-head of an energy think tank, has repeatedly accused President Joe Biden and his family of accepting millions of dollars in bribes from China. FBI agents interviewed Luft, who holds U.S. and Israeli citizenship, in Brussels in 2019 over his claims. The bureau decided not to pursue the investigation further after speaking with him, but Republicans have latched onto his accusations nonetheless.
Luft—who again, has repeatedly charged the Biden family of Chinese corruption—was charged Monday night with brokering deals for China, Iran, and even Libya. The U.S Attorney for the southern district of New York released a statement alleging that in 2016, Luft paid a former Trump advisor on behalf of Chinese principals, without registering as a foreign agent, to push policies favorable to China.
The attorney's office accused Luft of setting up meetings between Iranian officials and a Chinese energy company for potential oil deals, in violation of U.S. sanctions on Iran. Luft also allegedly worked as an illicit arms dealer, attempting to broker the sale of weapons to China, Libya, Kenya, and the United Arab Emirates.
Luft is not currently in U.S. custody. He was arrested in Cyprus in February, but fled when he was released on bail to await extradition. He has repeatedly insisted that the Biden administration is trying to silence him—a claim on which Republicans have gladly seized.
"He's literally fleeing for his life right now. He's on the run," Senator Ron Johnson said of Luft Sunday.
Speaking to Fox News' Maria Bartiromo, Johnson said Luft is "an important witness. He needs to be granted immunity to be able to testify and tell his story."
House Republicans have accused the Bidens of accepting bribes and influence peddling, but their months-long investigation has yet to produce any actual proof. Things took an odd turn in May when House Oversight Chair James Comer, who is spearheading the investigation, admitted that one of his key informants had gone missing. That informant was later revealed to be Luft.
Comer actually bragged just last week about what a good source Luft is. "He's very credible, and the people on MSNBC who made fun of me when I said we had an informant that was missing, they should feel like fools right now," he told Newsmax on Thursday. "This is their worst nightmare."
"We feel that this is a very credible witness. We feel that this is someone that we need to talk to in our investigation," Comer said.
Except, that investigation is careening off the rails. The charges against Luft are just the latest spanner in the works. Multiple Republicans have admitted they don't know if key evidence even exists, while Comer has said he doesn't know if that evidence is "legit."