Trump Sat Down for Dinner With Fox News Execs Right After Third Indictment
The timing is impeccable, really.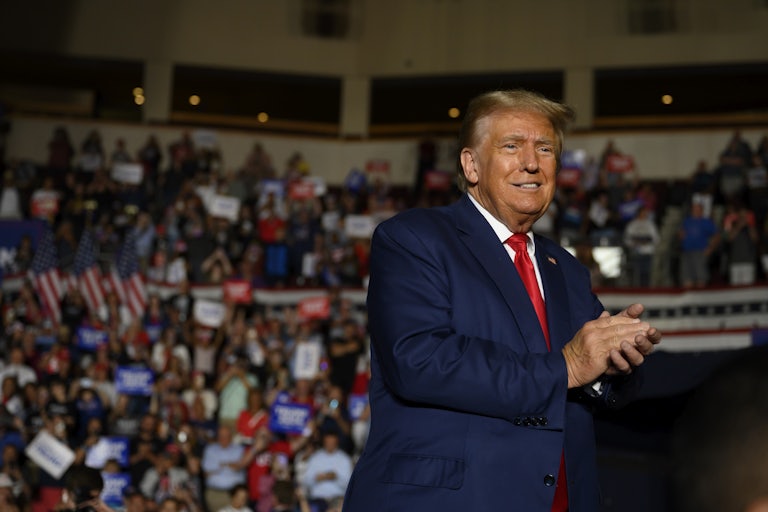 Jeff Swensen/Getty Images
Soon after Donald Trump learned he was being indicted for a third time, he sat down for a private dinner with top Fox executives, who begged him to attend the Republican debate.
The New York Times reported that Trump had dinner Tuesday night with Fox News president Jay Wallace and chief executive Suzanne Scott, at Trump's golf club in Bedminster, New Jersey.

During the two-hour dinner, the Fox executives tried to convince Trump to attend the first Republican presidential primary debate, scheduled for August 23.
Last week, Trump declared on Truth Social that he had no intention of attending the debate and would instead let the other candidates duke it out. "Let them debate so I can see who I MIGHT consider for Vice President!" he announced.
He has also repeatedly attacked Fox News, which will host the debate, on Truth Social. He has also criticized the network for lenient coverage of Ron DeSantis, Trump's main 2024 rival.
But during the dinner Tuesday, the Times reported:
The Fox executives made a soft appeal for Mr. Trump to attend the debate, two of the people familiar with the dinner said, telling the former president that he excels on the center stage and that it presents an opportunity for him to show off his debate skills.

Trump told the executives that he hasn't made up his mind yet on whether he'll attend.
If he does attend, it's sure to be a wild affair. Other Republican candidates who have qualified for the first Republican presidential debate are: Ron DeSantis, Tim Scott, Nikki Haley, Vivek Ramaswamy, and Chris Christie. Christie has been the most vocal Trump critic in the Republican field, rightfully calling him a "coward," "liar," and "loser."