Panicked Trump Wants Georgia Evidence Tossed to Stop Third Indictment
Trump is doing everything he can to stop the investigation into his efforts to overthrow the 2020 election.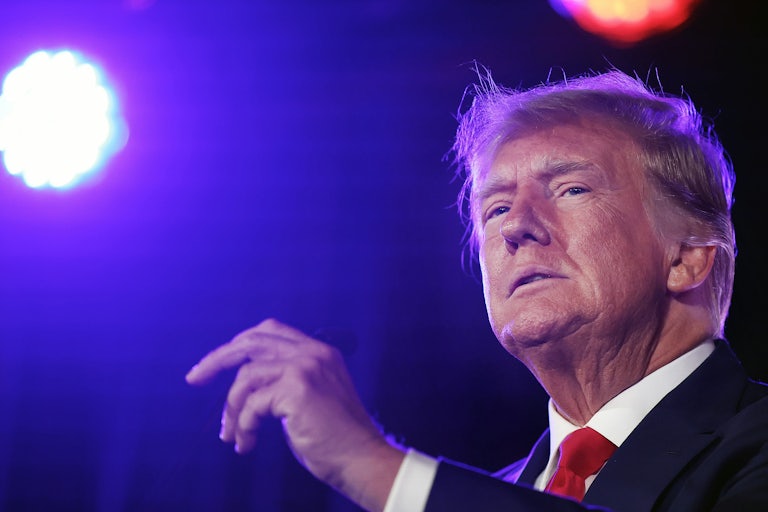 Mario Tama/Getty Images
When you get impeached twice, found liable for sexual abuse and defamation, and indicted numerous times it's a lot easier to go ahead and try asking the courts to stop investigating you. Such is the strategy of Donald Trump.
CNN reports that the former president is seeking a new court order to pretty much stop the Fulton County, Georgia, investigation into his efforts to overturn the 2020 election.
Trump's lawyers are filing to try throwing out all the evidence collected last year by a special grand jury, ban prosecutors from presenting that evidence to a new grand jury, and disqualify District Attorney Fani Willis from court proceedings.
The brazen demands come from a legal team that claims that allowing the investigation to proceed would lead to "a violation of [Trump's] fundamental constitutional rights," as he "seeks his Party's nomination for the Presidency of the United States." The lawyers filed petitions to both the Fulton County Superior Court and the Georgia Supreme Court.
It makes sense that Trump's legal team is getting desperate: the Georgia grand jury is expected to announce on Tuesday whether Trump and his associates should face criminal charges for trying to overthrow the election.
The Georgia investigation has been going on for the better part of two years, hearing from 75 witnesses, including Trump advisors, his former attorneys and aides, and Georgia officials. The special grand jury, which heard evidence for some seven months, recommended indicting more than a dozen individuals—of which Trump is suspected to be among.
All to say, the process has been a long and arduous one, not something flippant nor inherently infringing upon Trump's constitutional rights, just because it took so long that he's now running for president for the third time in a row.
Trump's lawyers have made similar filings in other legal cases he faces. Earlier this week, his legal team asked for a delay in the trial where he faces 37 charges for seizing and mishandling top secret government and military documents. They have argued that it's impossible to try the case in the lead-up to the 2024 election.
Meanwhile, on Tuesday, the Justice Department deemed Trump not immune from E. Jean Carroll's second defamation lawsuit against him, dating back to 2019.