Top Trump Adviser Warned About "Conspiracy Shit Beamed Down From the Mothership"
Trump knew he was lying in 2020—and his third indictment has all the receipts.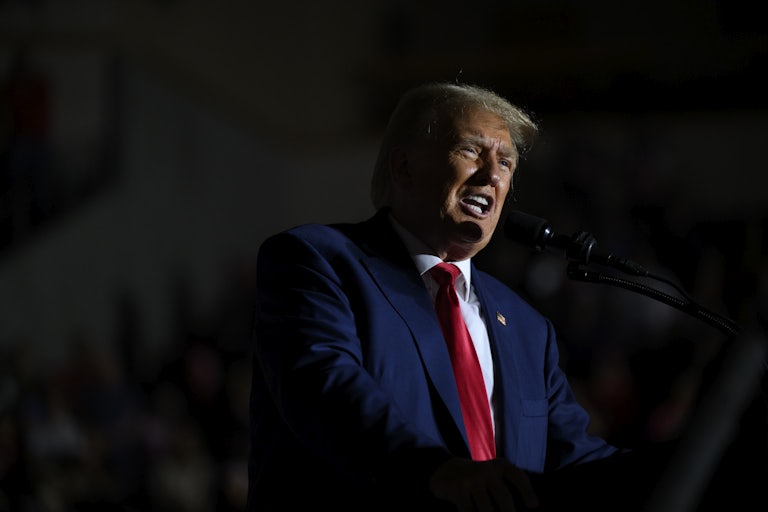 Jeff Swensen/Getty Images
Donald Trump
Donald Trump knew that the 2020 election was legitimate, but he tried to overturn the vote results anyway. And his record-breaking third indictment has all the proof.
In fact, a top adviser warned about the efforts to overturn the election quite clearly: "I'll obviously hustle to help on all fronts, but it's tough to own any of this when it's all just conspiracy shit beamed down from the mothership," an unnamed senior campaign adviser wrote in an email on December 8, 2020, referring to Trump's "Elite Strike Task Force" led by Rudy Giuliani.
Trump was charged for his role in the January 6 insurrection and other attempts to overturn the 2020 presidential election. He faces four counts that include conspiracy to defraud the United States, conspiracy to corruptly obstruct an official proceeding, obstruction of and attempt to obstruct an official proceeding, and conspiracy against the right to vote.
The indictment hinges on the fact that Trump allegedly knew the whole time that there was no fraud in the election but continued to insist that there was. This wasn't just some innocent slipup, and multiple people around Trump repeatedly tried to warn him.

Still, Trump insisted that fraudulent ballots had been cast and that electronic voting machines were switching votes to Democratic.
"These claims were false, and the Defendant knew that they were false," the indictment said. "In fact, the Defendant was notified repeatedly that his claims were untrue—often by the people on whom he relied for candid advice on important matters, and who were best positioned to know the facts—and he deliberately disregarded the truth."
People including then–Vice President Mike Pence and senior Justice Department officials, whom Trump had appointed, repeatedly told him there was no evidence of fraud, according to the indictment. So did the director of national intelligence, another Trump appointee, and the Department of Homeland Security's Cybersecurity and Infrastructure Security Agency, which Trump signed into existence in 2018.
Senior White House attorneys, whom Trump had picked, said there was no fraud, while staffers on his reelection campaign had already warned him he stood very little chance of winning. State-level allies repeatedly told him there was no evidence of fraud, and state and federal courts rejected every lawsuit that Trump and his allies filed to try to overturn the election results, informing him the suits were baseless.
Ignoring the truth for his preferred reality is becoming something of a habit for Trump. Special counsel Jack Smith had already indicted Trump for mishandling classified documents at his Mar-a-Lago estate. But Trump has repeatedly insisted that all the material he brought to Florida was already declassified, and anyway, being president enabled him to declassify documents at will, including "just by thinking about it."
But a president can't do that, and Trump knew it. In an audio recording of a July 2021 meeting, Trump admits that he had classified material and could not declassify it because he no longer holds office. In another leaked recording of the same meeting, Trump says he has a classified Pentagon document but he can't show it to the people there. His acknowledgment that he couldn't show the document to others demonstrates that he knew full well that he wasn't able to declassify documents at whim.