This Is the Big One: Donald Trump Indicted for Trying to Overthrow the 2020 Election
Donald Trump has been indicted a third time.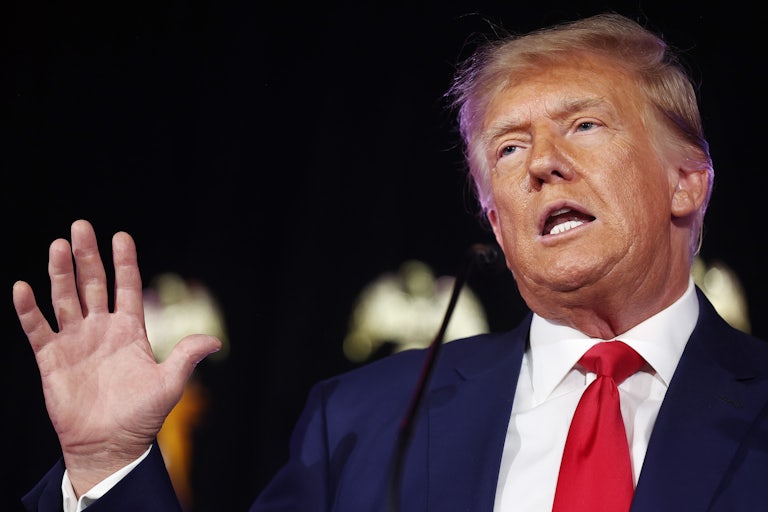 Mario Tama/Getty Images
Third time's the charm? Donald Trump was indicted Tuesday for a whopping third time, adding to an already sweeping list of charges against him.
Trump was charged for his role in the January 6 insurrection and other attempts to overturn the 2020 presidential election. He faces four counts that include conspiracy to defraud the United States, conspiracy to corruptly obstruct an official proceeding, obstruction of and attempt to obstruct an official proceeding, and conspiracy against the right to vote.
Six co-conspirators were also mentioned, but their names were not listed in the indictment.
In the very beginning of the indictment, Jack Smith calls out Trump for his refusal to accept the election results.
"The defendant, Donald J. Trump, was the forty-fifth President of the United States and a candidate for reelection in 2020," the indictment states. "The Defendant lost the 2020 election."
The indictment also notes that Trump knowingly spread lies about election fraud: "These claims were false, and the Defendant knew that they were false. But the Defendant repeated and widely disseminated them anyway—to make his knowingly false claims appear legitimate, create an intense national atmosphere of mistrust and anger, and erode public faith in the administration of the election."
Trump was warned in July that he was a target in special counsel Jack Smith's investigation into efforts to reverse the election. The twice-impeached, thrice-indicted, and liable for sexual abuse and defamation former president is now forcing Republicans to answer the question: Is someone charged with trying to overthrow democracy fit to serve?
Until now, Republicans have been up in arms, rushing to Trump's defense. House Speaker Kevin McCarthy suggested the potential indictment was because Trump was polling well, while Representative Marjorie Taylor Greene called Smith a "weak little bitch."
Trump has been charged with business fraud in New York for his alleged role in making hush-money payments to Stormy Daniels. He also has been charged with keeping national defense information without authorization, making false statements, and conspiring to obstruct justice. And he is still under investigation in Georgia for his role in trying to overturn the 2020 presidential election—despite an attempt to block that probe.
This piece has been updated.