Georgia Judge Slaps Down Trump's Effort to Block New Indictment Charges
Things are not going well for Donald Trump.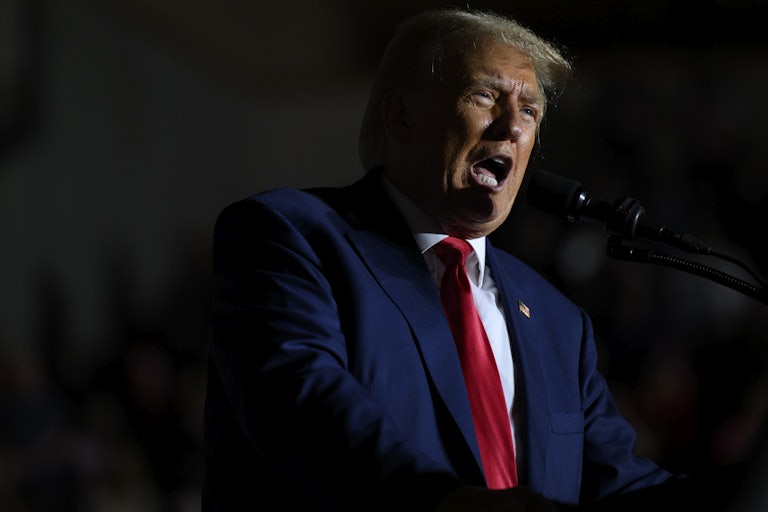 Jeff Swensen/Getty Images
Donald Trump
A Georgia judge has rejected Donald Trump's bid to block potential new indictment charges in the investigation into his efforts to overthrow the 2020 election.
Fulton County Superior Court Judge Robert McBurney on Monday ruled that Trump cannot stop Georgia prosecutors from trying to investigate him.
"While being the subject (or even target) of a highly publicized criminal investigation is likely an unwelcome and unpleasant experience, no court ever has held that that status alone provides a basis for the courts to interfere with or halt the investigation," wrote McBurney.
McBurney has overseen District Attorney Fani Willis's investigation into Trump's efforts to overturn Georgia's 2020 election results. In his nine-page ruling, he rejected Trump's motion and also went on to skewer him for fundraising off of the multiple investigations and indictments against him.
"For some, being the subject of a criminal investigation can, à la Rumpelstiltskin, be turned into golden political capital, making it seem more providential than problematic," he wrote. "Regardless, simply being the subject (or target) of an investigation does not yield standing to bring a claim to halt that investigation in court."
Trump had tried to argue that the case was unconstitutional and that Willis's work for Democrats represents a conflict. But McBurney was not swayed by the arguments.
"While both sides have done enough talking, posting, tweeting ('X'ing'?), and press conferencing to have hit (and perhaps stretched) the bounds of Georgia Rules of Professional Conduct … neither movant has pointed to any averments from the District Attorney or her team of lawyers expressing belief that Trump … is guilty or has committed this or that offense," he wrote.
"Put differently, the District Attorney's Office has been doing a fairly routine—and legally unobjectionable—job of public relations in a case that is anything but routine."
Two weeks ago, Georgia's Supreme Court also unanimously rejected Trump's bid to stop the investigation.
On Saturday, Willis announced that her team is "ready to go" and she will announce a decision on new charges against Trump by September 1.
"The work is accomplished," Willis told local outlet 11Alive. "We've been working for two and a half years."
"Some people may not be happy with the decisions that I'm making," she added.