"The Boss" Wants the Footage Deleted: The Damning New Evidence Against Trump
Trump allegedly tried to destroy the evidence in a cover-up attempt.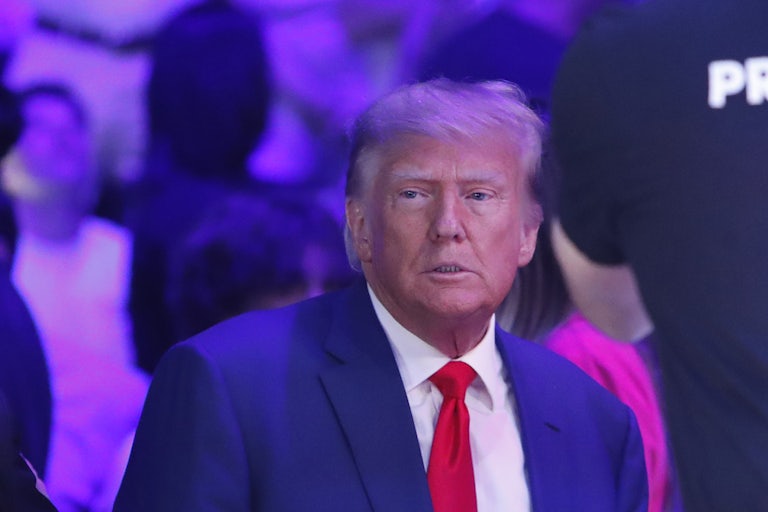 Steve Marcus/Getty Images
Donald Trump
Special counsel Jack Smith surprised everyone by issuing new charges against Donald Trump—in the classified documents case (we're still waiting on charges for trying to overthrow the 2020 election). And evidence for the new allegations is pretty overwhelming.
Smith filed a superseding indictment Thursday night, and Trump now faces 41 criminal counts for willful retention of national defense information, making false statements, and conspiracy to obstruct justice, among other things. Smith also added another defendant to the case, a Mar-a-Lago employee named Carlos De Oliveira. This brings the total number of defendants to three, including Trump's body man Walt Nauta.
In general, the new charges paint the picture of a cover-up, as Trump allegedly sought to destroy evidence. He, Nauta, and De Oliveira have all been newly charged with altering, destroying, mutilating, or concealing an object, as well as corruptly altering, destroying, mutilating, or concealing an object. De Oliveira has also been charged with making false statements.
De Oliveira is accused of helping Nauta move boxes of documents out of a Mar-a-Lago storage room (Nauta says he did not know what was in the boxes at the time). De Oliveira also allegedly asked an I.T. employee about deleting security footage off of a server. When the tech employee said they didn't know if doing so was authorized, De Oliveira said that "the boss" wanted it.
The indictment does not explicitly say that De Oliveira was referring to Trump when he mentioned "the boss" (although it's also unclear who else De Oliveira's boss could be). But the indictment does list multiple conversations Trump had with Nauta and De Oliveira, seemingly to prove how hands-on the former president was regarding plans to delete security footage.
De Oliveira is also apparently the employee who drained the Mar-a-Lago pool last October into a room full of computer services used to store surveillance footage from around the property. Prosecutors were told that, fortunately, none of the equipment was damaged.
Two of the new charges against Trump also include an additional count of willful retention, as well as a brand new charge of "presentation concerning military activity in a foreign country." The new indictment accuses Trump of showing a document that supposedly details a potential plan to attack Iran to people with no security clearance. Trump allegedly waved the paper around during a meeting at his Bedminster club.
Smith's new indictment is so all-encompassing that one of Trump's former lawyers has a message for his old boss: Good luck.
"I think this original indictment was engineered to last a thousand years, and now this superseding indictment will last an antiquity," Ty Cobb, who represented Trump during special counsel Robert Mueller's investigation, told CNN. "This is such a tight case, the evidence is so overwhelming."
Cobb also said Trump had likely been advised by his lawyers "not to destroy, move [documents], or obstruct this grand jury subpoena in any way."
"So this is Trump going not just behind the back of the prosecutors; this is Trump going behind the back of his own lawyers and dealing with two people who are extremely loyal."