Shocker: Trump Is Chickening Out of the Republican Debate
The Republican front-runner has no interest in being on a stage with the other candidates.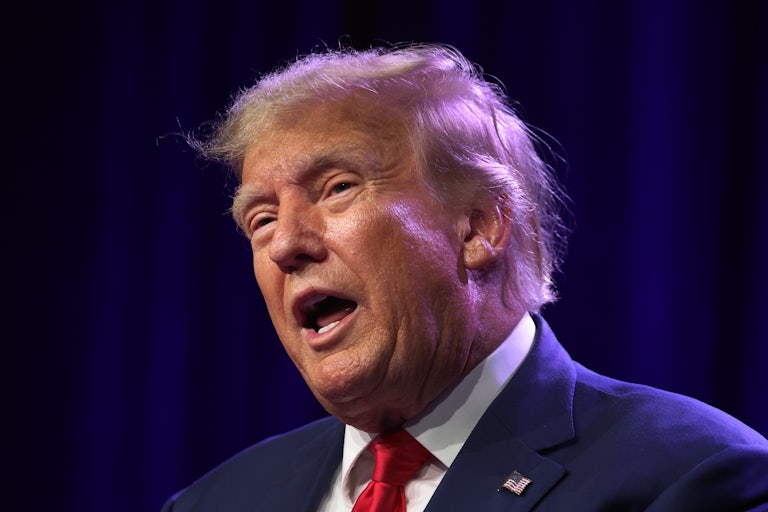 Scott Olson/Getty Images
Donald Trump
Donald Trump has decided that he won't participate in the first Republican presidential debate.
If Trump had decided to attend the debate, set for August 23, he would have faced off against Ron DeSantis, who is the closest behind Trump in the polls (although still by a big stretch). Tim Scott, Nikki Haley, Vivek Ramaswamy, Chris Christie, and Doug Burgum have also qualified.
However, Trump announced Monday that he has no plans to take part. "Let them debate so I can see who I MIGHT consider for Vice President!" he wrote on Truth Social.
Trump has been threatening for a while not to participate in the debate. He even asked the crowd at a rally in Erie, Pennsylvania, on Saturday if he should take part in the debate and was met with a chorus of "No"s.
Trump probably knows that he'll be the front-runner regardless of whether he debates. Other candidates have tried to goad him into participating, particularly Christie, who predicted Sunday that by the time the debate rolls around, "the front-runner will be out on bail in four different jurisdictions—Florida, Washington, Georgia and New York."
But the former president seems unfazed. "Why would I give [the other candidates] time to make statements?" he told Reuters last week. "Why would I do that when I'm leading them by 50 points and 60 points?"
While his lead isn't quite that much, a New York Times/Siena poll published Monday found Trump is leading DeSantis by 37 percentage points.
Trump has called Fox News, which is broadcasting the debate, a "hostile network." He also previously criticized his former favorite network for not covering his campaign events.

Trump is far and away the front-runner among Republican candidates, despite all of the indictments either already issued or pending against him. Last week, Trump promised to run even if he is convicted and imprisoned. And if anything, the multiple indictments against him have only made him more popular.