Cornel West Owes the IRS More than $500,000 in Taxes
A new report found that the Green Party candidate hasn't been paying his taxes.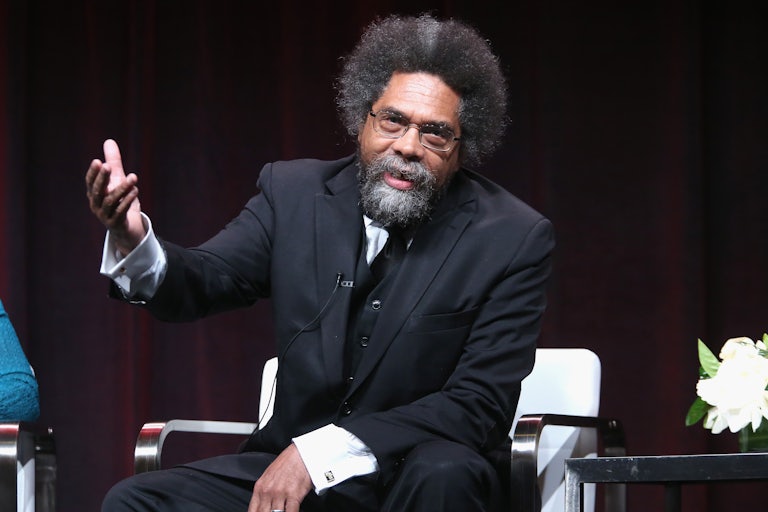 Frederick M. Brown/Getty Images
Cornel West
Presidential candidate Cornel West, who has spent most of his career advocating for higher taxes on the wealthy, owes the IRS more than half a million dollars in unpaid taxes.
Throughout his decades in the public eye, West, who is an academic at elite institutions and a bestselling author, has blasted the concentration of wealth at the top of U.S. society. Since announcing his run for president, first on the People's Party ticket and currently on the Green Party's, he has argued that taxes on the wealthiest Americans need to be "higher, much higher."
But West hasn't been putting his money where his mouth is—literally. An investigation by The Daily Beast, published Thursday, found that West owes $543,778.78 in unpaid taxes. The Beast cited tax filings in Mercer County, New Jersey, where West owns a house in the town of Princeton, and in Los Angeles, where West's personal attorney is.
The IRS has filed liens against West for the years 2005, 2014, 2015, 2016, and 2017, when he failed to pay anywhere from more than $62,000 to nearly $137,000 in taxes. The liens, or federal claims against property for unpaid debts, are all still open.
Federal liens don't officially close until 30 days after the debt has been paid, so it's possible West has paid some of his taxes within the past few weeks or has set up a payment plan. But West offered no such explanation to the Beast. Instead, he denied that he hadn't paid his taxes and said his accountant would provide more information. The accountant never reached out.
This is apparently not new behavior for West. By 2004, he had accumulated $724,397.26 in liens over the previous six years. He didn't pay the balance until 2010. In 2012, he paid $34,069.93 in taxes owed for the year 2008.
Documents form California show that West owed $46,904.57 in taxes for 2011 and $112,449.79 in taxes for 2012. He didn't resolve these liens until two months ago, about a week after he announced he was running for president.
West also has yet to pay a 2003 child support payment of $49,500.
These revelations are an important reminder to West, or anyone thinking of running for public office. Campaigning can be all fun and games, as it lets you travel around the country and spread your chosen message. Donors give you money or throw fancy parties for you.
But it also means that you are subjected to more intense scrutiny than ever before. If you have a single skeleton in your closet, it will be found.