He's "an Even Stronger Candidate": Republicans' Batty Reactions to the Trump Indictment
Republicans are bending over backward to defend Trump after he was indicted a third time.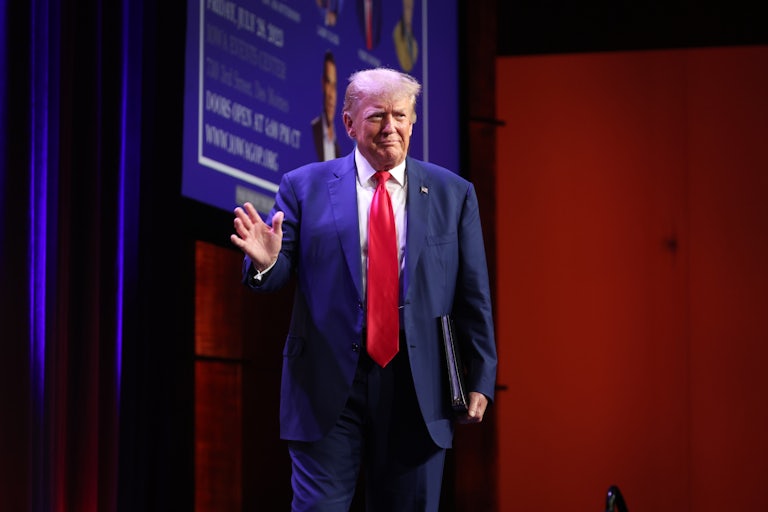 Scott Olson/Getty Images
Donald Trump was indicted for a record-breaking third time on Tuesday and now faces four felony counts for his efforts to overturn the 2020 election. But his Republican challengers for president are brushing away the damning 45-page indictment like crumbs from the table.
"A D.C. jury would indict a ham sandwich and convict a ham sandwich if it was a Republican ham sandwich," Florida Governor Ron DeSantis said on Fox News Wednesday, without noting any of the substantial allegations in the Trump indictment. He also blasted the indictment on Tuesday evening, before noting he hasn't actually read it.
"We're watching Biden's DOJ continue to hunt Republicans, while protecting Democrats," said Senator Tim Scott.
Vivek Ramaswamy went even further and announced a lawsuit against the Justice Department to "deliver accountability and transparency." He also said he would file a Freedom of Information Act records request for more details on Trump's third indictment. He also pledged once again to pardon Trump if elected. (In 2021, just six days after the insurrection, Ramaswamy declared, "What Trump did last week was wrong. Downright abhorrent. Plain and simple.")
Other Republicans similarly bent over backward to defend Trump.
Representative Jim Banks may have had the wildest defense of Trump in Congress, claiming that the indictment "makes him an even stronger candidate to defeat Joe Biden next November."
House Speaker Kevin McCarthy dismissed the indictment as an attempt to distract from the Hunter Biden probe (which to date, has uncovered very little evidence).
"Just yesterday a new poll showed President Trump is without a doubt Biden's leading political opponent," McCarthy said on X, the platform formerly known as Twitter. "Everyone in America could see what was going to come next: DOJ's attempt to distract from the news and attack the frontrunner for the Republican nomination, President Trump."
In 2021, McCarthy said Trump "bears responsibility" for the riot at the Capitol.
"We've entered banana republic territory," said Senator Ted Cruz, repeating one of his favorite talking points. In 2021, Cruz called the January 6 insurrection a "terrorist attack."
Very few Republicans have publicly criticized Trump following the indictment, despite the gravity of the charges.