Marjorie Taylor Greene Brutally Mocked After Yom Kippur Tweet Gaffe
The far-right representative with a history of antisemitism tried to pretend she knew something about the Jewish holiday.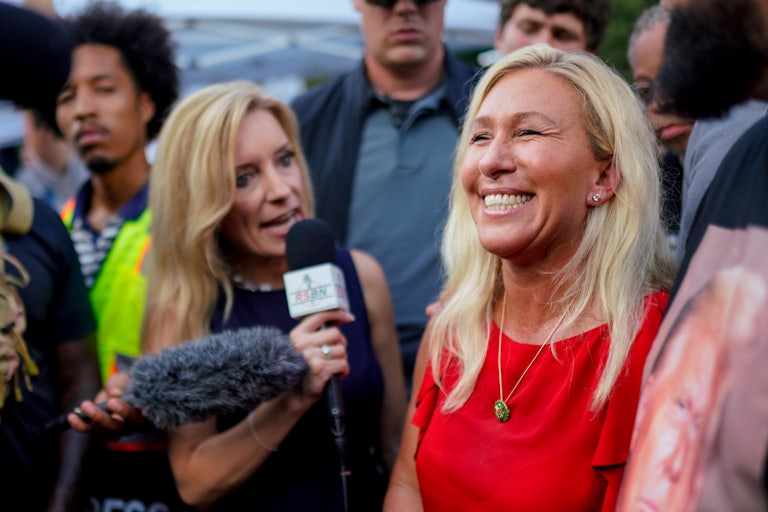 Benjamin Hendren/Anadolu Agency/Getty Images
Representative Marjorie Taylor Greene marked Yom Kippur, the holiest day in Judaism, with a massively ignorant gaffe.
"To all those preparing for the solemn day of Yom Kippur, I wish you a meaningful fast," the Georgia Republican posted on X, formerly known as Twitter.

She also shared a cartoon graphic of a shofar, or a ram's horn that is blown to mark the end of the fast, and a menorah. Menorahs are used during Hanukkah, not Yom Kippur.
Greene has since deleted the tweet, which many X users joked looked as if she had just asked her P.R. team to "google 'Jew stuff.'"
Shockingly, this is one of the less terrible comments Greene has made about the Jewish community. She sent shockwaves throughout the country shortly after assuming office in 2021, when she said wildfires in California had been caused by Jewish-owned space lasers. She has also compared Covid-19 mask mandates to the horrors of the Holocaust.
If Greene was trying to do any damage control for her antisemitism, it didn't work.
She's not alone in her Yom Kippur fumble, though. The New York Police Department also shared—and subsequently deleted—a graphic for the holiday. Theirs included a shofar, a menorah, honey, and an apple. The last two are symbols of Rosh Hashanah. They are also ingredients in a traditional Passover dish.
This story has been updated.