Someone Entered a Democratic Congressman's Office With a Baseball Bat
The growing political violence in this country is a serious threat.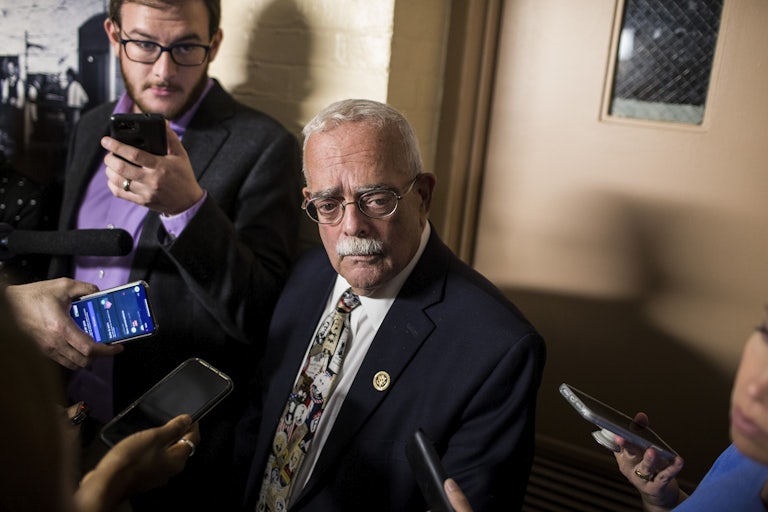 Zach Gibson/Getty Images
Representative Gerry Connolly from Virginia
A person wielding a baseball bat attacked two staffers at a Virginia Democratic representative's office on Monday, after they couldn't find the congressman himself, the latest in a trend of violence that seems to be targeting liberal political figures.
Gerry Connolly said the assailant had initially asked for him when they entered his office. Connolly was at a ribbon-cutting ceremony for a food bank, so the assailant turned on the office staff, hitting one senior aide in the head with the metal bat and an intern on the side, according to CNN's Manu Raju. It was the intern's first day on the job.
Connolly said the attacker was in police custody and that both members of his team had been hospitalized with "non-life threatening injuries."

"Right now, our focus is on ensuring they are receiving the care they need," he said in a statement, which did not include more details about the attacker or what may have motivated them. But the U.S. Capitol police identified the suspect as Xuan Kha Tran Pham, a 49-year-old resident of Fairfax, Virginia.
Pham reportedly sued the CIA last year, claiming the agency had been "wrongfully imprisoning [him] in a lower perspective based on physics." He alleged he was being "brutally tortured…from the fourth dimension" and sought $29 million in damages, as well as to be "cured" by an unspecified form of technology.
His complaint matches beliefs held by conspiracy theorists, many of whom claimed they are being secretly surveilled and psychologically tortured using nonexistent technology. The CIA moved to dismiss the trial last month, but Pham ended up representing himself in court.

This attack marks the fifth attack on a political figure on the left—and the third to injure someone—in recent memory. Michigan alone has seen two attempts, starting in 2020 when four men plotted to kidnap Governor Gretchen Whitmer because of the Covid-19 safety restrictions she had implemented. They also thought she would tighten gun regulations. In March, the FBI arrested a man for plotting to kill all Jewish Michigan elected officials, including state attorney general Dana Nessel.
Nancy Pelosi's husband Paul had to get emergency surgery on his skull in October after a man broke into the couple's San Francisco home and, upon failing to find the former House speaker, attacked her spouse with a hammer. Paul Pelosi appears to be recovering.
And just a few weeks ago, a man was arrested for allegedly committing arson at two mosques in Minneapolis and vandalizing Representative Ilhan Omar's district office, as well as a patrol vehicle assigned to a Somali city police officer and a marketplace known locally as the Somali Mall. None of this, of course, includes the pipe bombs sent to prominent Democrats and Trump critics in 2019, or the targeting of Democratic members of Congress during the January 6 attack on the Capitol.

All of these attacks, or attempted attacks, have been on left-leaning political figures. Meanwhile, their right-wing colleagues have either remained silent or actively pushed conspiracy theories and crude jokes about the attempts on people's lives. In doing so, they are only condoning political violence—and potentially encouraging people to keep trying.
One such Republican is Virginia Governor Glenn Youngkin. He condemned the attack on Connolly's office, tweeting that "violence does not belong in our political system."
"We've seen this against our legislative branch and it has no place in our Commonwealth," Youngkin said.

But the day that Paul Pelosi was attacked, Youngkin used the assault as the punchline to a joke. "There's no room for violence anywhere, but we're going to send her back to be with him in California," he said of Nancy Pelosi. Youngkin sent a personal note to Pelosi to apologize, but only after weeks of backlash.
This story has been updated.