It Seems Judge Aileen Cannon Is About to Hand Trump a Massive Win
The Trump-appointed judge is considering a request from the former president in his classified documents trial.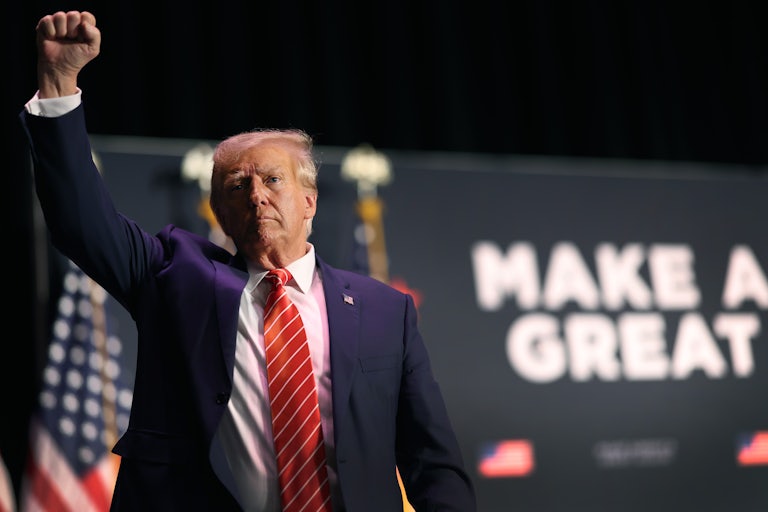 Scott Olson/Getty Images
The Trump-appointed federal judge overseeing the former president's classified documents trial seems poised to give Trump exactly what he's been asking for.
U.S. District Judge Aileen Cannon indicated on Thursday that she may delay the proceedings past their prearranged May 20, 2024, start date. Under consideration in Cannon's decision are the numerous other trials that the former president faces, along with 1.3 million pages of evidence that his legal team needs to review, according to the Associated Press.
Cannon said she "has a hard time seeing how realistically this (current schedule) would work," AP reported.
Jay Bratt and other prosecutors on special counsel Jack Smith's team argued against the concession to Trump, citing his legal team's long-standing efforts to delay the trial beyond the November 2024 presidential election when Trump hopes to take back the White House.
"I am not quite seeing a level of understanding on your part to these realities," Cannon pushed back.
Cannon is expected to make her final decision on the trial's start date in the coming days.
Trump faces 40 felonies in the case, including 32 counts of willful retention of documents in violation of the Espionage Act, six counts for obstruction, and two counts for making false statements.
Those first 32 counts relate to 32 documents that Trump retained at his Mar-a-Lago estate, the vast majority of which were marked classified and pertained to topics of foreign military capabilities and nuclear weapons, according to the indictment.

His valet, Walt Nauta, and a Mar-a-Lago property manager, Carlos de Oliveira, are also charged in the case for allegedly moving boxes housing the sensitive documents in and out of a storage room in an effort to conceal them from FBI investigators. Trump, Nauta, and de Oliveira have all pleaded not guilty.
Cannon has handed Trump several wins in the past, including assigning his legal team a "special master" to review all the material recovered during the FBI's Mar-a-Lago raid. The Eleventh Circuit Court ultimately threw out Cannon's decision, ruling that Trump and Cannon had no legal basis for either requesting or granting the master.
Another Trump case brought forward by Smith's team may also have delays on the horizon. In October, Trump's legal team claimed presidential immunity in the D.C. case charging him with plotting to overturn the 2020 presidential election results, questioning whether Trump's actions fell outside of his White House responsibilities.