Alabama Judges Use Abortion Ban Logic to Block Care for Trans Minors
We're beginning to see the appalling legal consequences of the Supreme Court's Dobbs decision.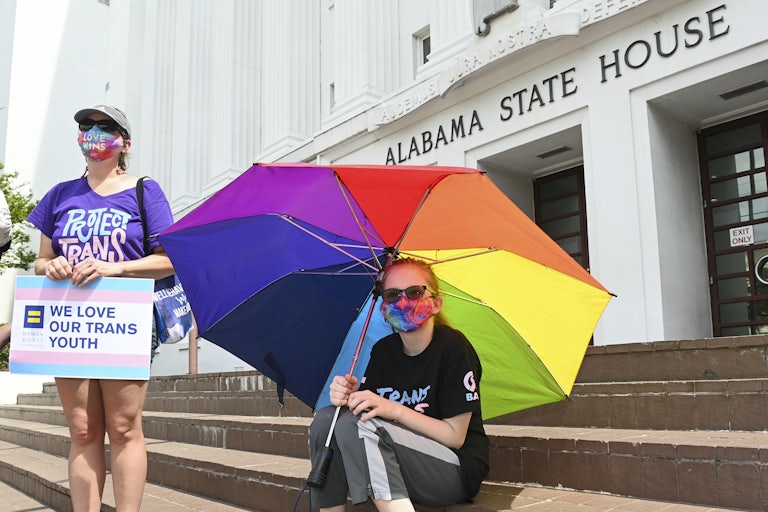 Julie Bennett/Getty Images
Christa White (left) and her daughter protest anti-LGBTQ legislation outside the Alabama State House in Montgomery in 2021.
A trio of appeals court judges on Monday allowed Alabama's ban on gender-affirming care for minors to go into effect—and they justified the ruling by citing the Dobbs decision that overturned Roe v. Wade.
Alabama passed a law in April 2022 that made it a felony to provide gender-affirming care to transgender teenagers under the age of 19. This applied to puberty blockers, hormones, and medical procedures. A federal judge blocked the law the following month, ruling that parents have "a fundamental right to direct the medical care of their children," including "transitioning medications subject to medically accepted standards."
The state appealed the ruling in November, and on Monday the three-judge panel of the Eleventh Circuit Court—all of whom were appointed by Donald Trump—overturned the injunction, arguing that the right to transition is not a fundamental one.
Citing Dobbs v. Jackson Women's Health, the landmark Supreme Court case that rolled back the nationwide right to abortion, the appeals court said that the due process clause of the Fourteenth Amendment guarantees people the rights listed in the Constitution, as well as some "fundamental rights" that are not mentioned in the document. It then quoted Dobbs directly:
To determine whether a right at issue is one of the substantive rights guaranteed by the Due Process Clause, courts must look to whether the right is "deeply rooted in [our] history and tradition" and "essential to our Nation's 'scheme of ordered liberty.'" … Although there are records of transgender or otherwise gender nonconforming individuals from various points in history, the earliest-recorded uses of puberty blocking medication and cross-sex hormone treatment for the purposes of treating the discordance between an individual's biological sex and sense of gender identity did not occur until well into the twentieth century.
Essentially, because modern medicine has progressed, people do not have the right to bodily autonomy. It's also unclear how far back something has to go to be considered "history." Puberty blockers were first used in the 1980s, which apparently is not far back enough for gender-affirming care to be considered tradition. But abortion was first recorded in 1550 BCE, and it would seem that doesn't count either.
The Eleventh Circuit's ruling shows just how dangerous Dobbs is. It doesn't only affect abortion. Other courts can use its twisted logic to deny other rights.