Moms for Liberty Falls Flat on Its Face in School Board Races
In Iowa, Moms for Liberty endorsed 13 candidates for school board. Guess how many actually won?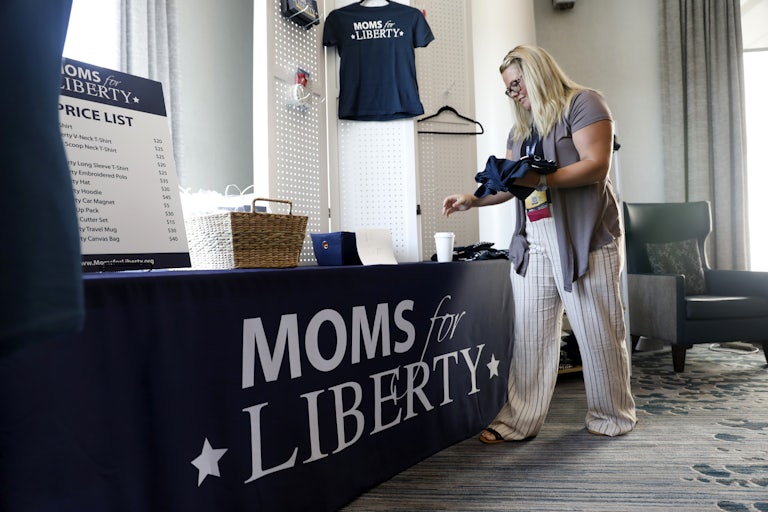 Octavio Jones/Getty Images
Iowa chapters of the far-right group Moms for Liberty endorsed 13 candidates in school board races across the state. Only one was elected.
The Tuesday loss is a stinging rebuke of Moms for Liberty, a "parental rights" organization that the Southern Poverty Law Center designated as an extremist group. What happened in Iowa mimics similar defeats suffered by the group and by Republicans in general throughout the U.S.
In Iowa, the only Moms for Liberty candidate who won was Nathan Gibson. He was elected school director for the Interstate 35 district, a rural district with fewer than 1,000 students.
Moms for Liberty was founded in 2021 to push back against Covid-19 restrictions in schools. It has since expanded to opposing classes on diversity, curbing the rights of LGBTQ students, and banning books.
But on Tuesday, voters across the country pushed back on the Moms for Liberty agenda. The organization endorsed more than 130 candidates across the country, and the vast majority of them lost—with some failing to get more than single-digit support.
All four Moms for Liberty-backed candidates in Minnesota lost, as did all four in Washington state. The group endorsed 19 candidates for school boards in New Jersey, but only four won.
Moms for Liberty backed 25 candidates throughout Ohio, but just five were elected. And of the six candidates the group endorsed in Virginia, only one won her race.
Voters issued similar rebukes to the Republican Party in general. Ohioans also voted overwhelmingly Tuesday night to enshrine abortion protections in the state constitution, despite the state GOP making multiple desperate attempts to prevent such an outcome. In Virginia, Democrats took control of both the state House and Senate in a stunning upset.
This story has been updated.