"Smoke Those Terrorists": GOP Candidates Compete to Be Biggest Israel Hawk
None of the Republican presidential candidates care about reining in Israel.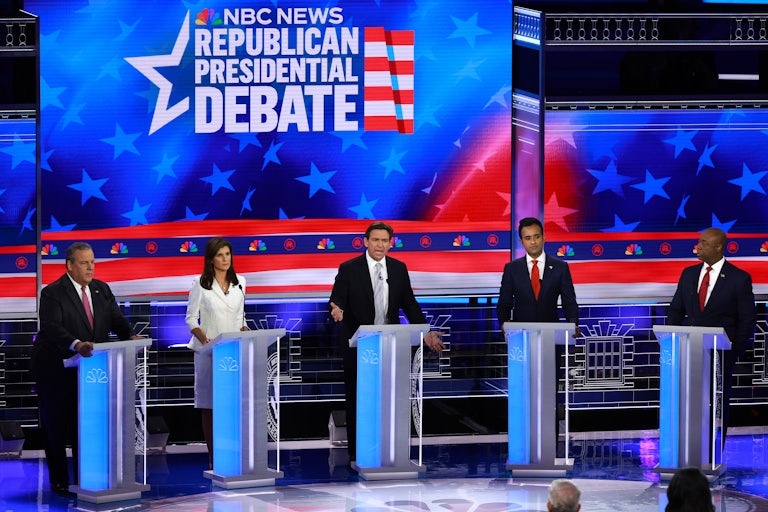 Joe Raedle/Getty Images
Not a single Republican presidential candidate thinks Benjamin Netanyahu has gone far enough in his assault on Gaza.
During the Republican presidential debate on Wednesday, each candidate was asked what advice they would give the Israeli prime minister if they were president right now.
"I would tell Bibi finish the job once and for all with these butchers Hamas," said Ron DeSantis. "I'm sick of hearing the media, I'm sick of hearing other people blame Israel just for defending itself. We will stand with Israel, in word and in deed, in private and in public."
"Would you consider humanitarian pause?" NBC moderator Lester Holt then asked Nikki Haley.
"The first thing I said to [Netanyahu] when it happened was I said, 'Finish them. Finish them,'" she replied, before stressing that we need to "support Israel with whatever they need whenever they need it."
Vivek Ramaswamy went even further: "What I would tell Bibi is that Israel has the right and the responsibility to defend itself. I would tell him to smoke those terrorists on the southern border. And I would tell him as president of the United States I'll be smoking the terrorists on our southern border."
"You have the responsibility and right to wipe Hamas off the map and we will be with you," added Tim Scott. "I would say to Biden diplomacy only is a weak strategy. Appeasement leads to war."

The South Carolina senator went on to blame the conflict on Joe Biden and Barack Obama's diplomacy with Iran—and argue for strikes on the country.
"There is blood dripping from the hands of President Obama and President Biden, he said. "You actually have to cut off the head of the snake, and the head of the snake is Iran and not simply their proxies.… You cannot negotiate with evil. You have to destroy it."
Christie, for his part, at least noted that it is essential to work with both sides to resolve the conflict, but he too called for supporting Israel. "The first thing I would say to Prime Minister Netanyahu is pretty simple: America is here no matter what it is you need at any time to preserve the state of Israel."