Tucker Carlson Takes His Racist Show to Twitter
This is a partnership from hell—and it's just further proof Elon Musk wants Twitter to be his own personal echo chamber.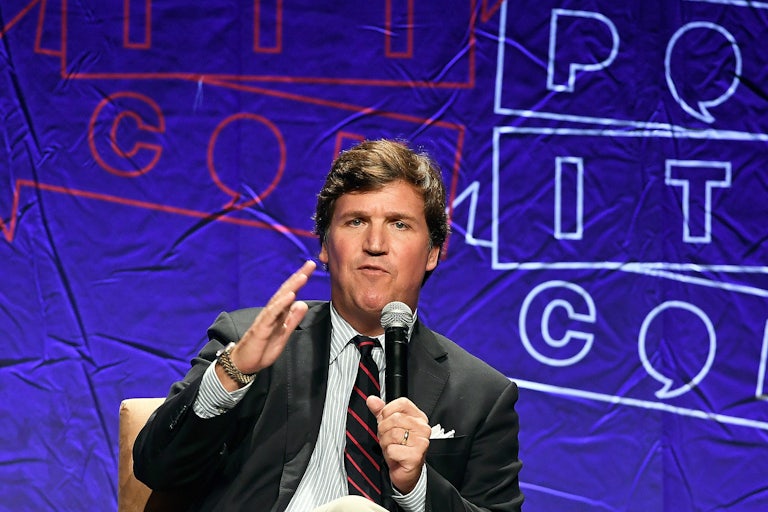 Michael S. Schwartz/Getty Images
Tucker Carlson
For those concerned with where Tucker Carlson might land after being booted out of Fox, fear not. He's actually landing in a spot where he'll be even more ideologically comfortable, and where he won't be bothered by the pesky particulars of things like editorial responsibility, or legal liability.
Why? Because Elon Musk's Twitter is rolling out a welcome mat for the far-right television host. Carlson is going to relaunch his show on the social media website, bringing along some of his old staff from Fox.
"Starting soon, we'll be bringing a new version of the show we've been doing for the last six and a half years to Twitter," Carlson said in a video statement on Twitter.
"The best you could hope for in the news business at this point is the freedom to tell the fullest truth that you can. But there are always limits," Carlson continued. "And you know that if you bump up against those limits, often enough, you will be fired for it," perhaps nodding towards his own departure from Fox after the network shelled out $787.5 million to settle a defamation lawsuit brought by Dominion Voting Systems for the network's lies about its voting machines and the integrity of the 2020 election.
The news of Carlson's show comes after months of Musk ramping up Twitter to be more like a far-right haven and less like an open platform that serves as a massive information highway for the world.
Musk has reinstated far-right Nazis back to Twitter. He has banned numerous journalists for doing their job. He has completely upended the verification system, enabling impersonation and misinformation to run rampant. He gave exclusive file access to a handful of writers, so they could construct a cherry-picked and conspiratorial narrative about online right-wing suppression.
In recent days, Musk has whipped up lies and conspiracy theories surrounding everything from the horrific mass shooting in Allen, Texas carried out by a neo-Nazi and white supremacist, to Daniel Perry's killing of homeless man Jordan Neely on the New York City subway.
All that dangerous rhetoric—illustrated by how the shooter in Allen, Texas, explicitly has said stochastic terroristic figures like Libs of TikTok inspired him—has been tolerated and indeed encouraged by Musk under the abstract glorification of "free speech."
"Amazingly, as of tonight, there aren't many platforms left that allow free speech. The last big one remaining in the world, the only one is Twitter, where we are now," Carlson said. "Twitter is not a partisan site, everybody's allowed here…but actually the gatekeepers are still in charge," he continued. "We think that's a bad system. We know exactly how it works," he concluded, alluding to "the new version" of his show being an antidote to his posed problem.
Carlson has long made his brand one that purports to advocate for the little guy, while he in fact redirects anger towards the wrong targets, or even flatters people who already have power and influence (like Musk). The dynamic was more of the same in his remarks.
Musk for his part claims that Twitter has not signed an exclusive deal with Carlson, and that he is "subject to the same rules & rewards of all content creators" (which, given how much misinformation and inflammatory content users have been allowed to spread so far, doesn't necessarily say much anyhow).
Nevertheless, news of Carlson's show still indicates how Musk is using Twitter to create his own echo chamber. Already, within Musk's new Twitter regime—in which most of the mere thousands of Twitter Blue subscribers are Musk sycophants, far-right users, or both—most top replies beneath the sorts of conspiratorial tweets Musk himself promotes are similarly conspiratorial or inflammatory. And these same tweets are the ones that receive inordinate amounts of amplification in areas like Twitter's "for you" recommendation tab. Any illusion of debate or open discourse or even intellectual exchange that Twitter may have had previously is gone.
So make no mistake, any "free speech" that Carlson is advocating for (read: at best, faux populism that doesn't genuinely call for collective action against corporate villains; at worst, viciously racist whip-ups that encourage vigilantism or militaristic police crackdowns against protestors) is not only already allowed, but encouraged on Musk's Twitter.
Twitter has already been circling the drain; advertisers have been fleeing en masse, and they likely will only depart faster after Musk's even more explicit conspiratorial turn over the past 48 hours. Carlson's deal adds another layer of shit that'll whirl down the drain.