Elon Musk Hits a New, Creepy Antisemitic Low
"You have said the actual truth."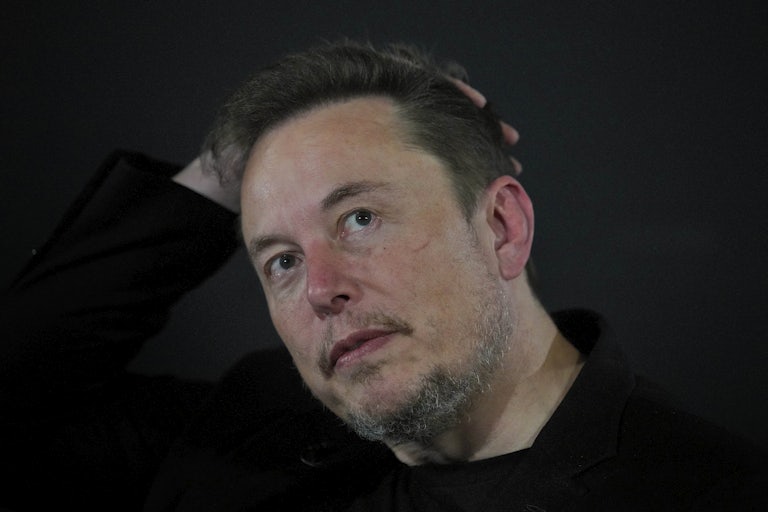 Kirsty Wigglesworth/WPA Pool/Getty
Elon Musk has endorsed a virulently antisemitic conspiracy theory that Jewish people are getting what they deserve after pushing "diabolical hatred against whites."

The blowup started with one user posting an ad on X, formerly known as Twitter, urging antisemites who believed "Hitler was right" should stop hiding behind a digital cloak of anonymity.
Then one user emerged with a neo-Nazi talking point, pegging Jewish communities for pushing alleged racism against white people.
"Jewish commun[i]ties have been pushing the exact kind of dialectical hatred against whites that they claim to want people to stop using against them," posted X user @breakingbaht. "I'm deeply disinterested in giving the tiniest shit now about western Jewish populations coming to the disturbing realization that those hordes of minorities that [they] support flooding their country don't exactly like them too much."
"You want truth said to your face, there it is," they added.

"You have said the actual truth," Musk responded.
The comments are disturbingly in line with the antisemitic "great replacement" theory touted by the Pittsburgh Tree of Life synagogue shooter, Robert Bowers.

After more than an hour of intense backlash, Musk reframed his comments with another post, claiming only to be chastising the Jewish nonprofit organization the Anti-Defamation League, an organization he threatened to sue earlier this year for monitoring hate speech on X.
"The ADL unjustly attacks the majority of the West, despite the majority of the West supporting the Jewish people and Israel. This is because they cannot, by their own tenets, criticize the minority groups who are their primary threat. It is not right and needs to stop," the entrepreneur added.
But far-right users are already chuffed by Musk's engagement, adding their own prejudice into the mix.
"Judaism is extremely anti European," wrote one user.
Another responded by retweeting his earlier comments claiming that if it weren't for Jews, "we'd enjoy our 90% White countries. But they want their nation while destroying our sovereignty."
The billionaire's comments were also retweeted by Nick Fuentes, a Hitler-loving, self-proclaimed white supremacist who once analogized the murder of six million Jews during the Holocaust to cookies being baked in the oven.
Musk has an extensive history of leveraging his social media platform to spread controversial and problematic stances. Recently, the world's wealthiest man has agreed with posts purporting that "'decolonization' is the woke version of jihad" and posted that they should "drop the "A" and go with Defamation League" after the Anti-Defamation League released a poll indicating that hate speech against Jews had risen by 61 percent on X since Musk's takeover.