Chief Justice John Roberts Delays Release of Trump Tax Records Till After the Election
This is the third time the Supreme Court has saved Team Trump in the last week.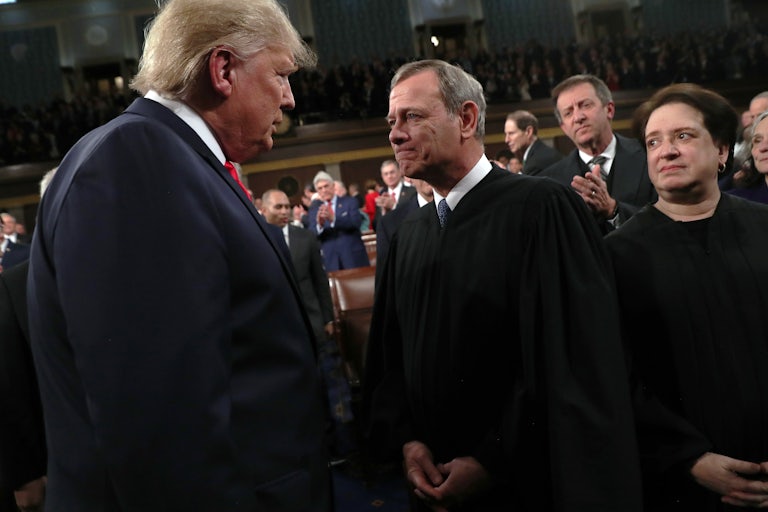 Leah Millis-Pool/Getty Images
Donald Trump speaks with Supreme Court Justice John Roberts.
Supreme Court Chief Justice John Roberts gave Donald Trump a massive break Tuesday, temporarily halting the release of the former president's tax records. The records were originally set to be turned over this week, just days before the election.
A U.S. Court of Appeals last week refused to overturn an August ruling that gave a House of Representatives committee access to Trump's tax records from 2015 to 2020. Trump asked the nation's highest court Monday to intervene.
Roberts ruled Tuesday that the appeals court mandate is "stayed pending further order of the undersigned or of the Court. It is further ordered that a response to the application be filed on or before Thursday, November 10."
Trump had asked the Supreme Court to pause enforcement of the appeals court's ruling so he would have time to submit a formal appeal of the decision.
Trump has become infamous for refusing to release his tax returns, sparking speculation that he was hiding something fraudulent about his taxes and business dealings.
The House Ways & Means Committee sought Trump's tax returns in 2019, saying the records would help inform legislation improving how the IRS audits presidents. The Treasury had refused to release the documents while Trump was in office.
When President Joe Biden took over, Trump sued the Treasury to prevent it from handing over his tax records, claiming executive immunity—despite no longer being an executive.
Both a lower court and the appeals panel agreed that the lawmakers had a "legitimate legislative purpose" in examining the records.
Trump is under fire on multiple fronts, facing two lawsuits in New York, where he has been charged with business fraud and his organization accused of tax fraud. The FBI is also investigating his storing sensitive government documents at Mar-a-Lago after leaving office.
This is the third time the Supreme Court has given Team Trump a reprieve in the past week. On October 24, Justice Clarence Thomas temporarily blocked a subpoena ordering Senator Lindsey Graham to testify in front of a grand jury about efforts to overturn the 2020 election results in Georgia. (Meanwhile, Thomas' wife Ginni Thomas is also being investigated for allegedly trying to reject the election results.)
Two days later, Justice Elena Kagan temporarily blocked a subpoena from the House January 6 investigative committee for phone and text records of Arizona Republican Party Chair Kelli Ward. Kagan's order was likely to give the justices more time to consider the matter.