Latino Voters Did Not Abandon Democrats This Election
Despite what the media narrative is saying, Latino voters still showed up for Democrats. (But their support is slipping.)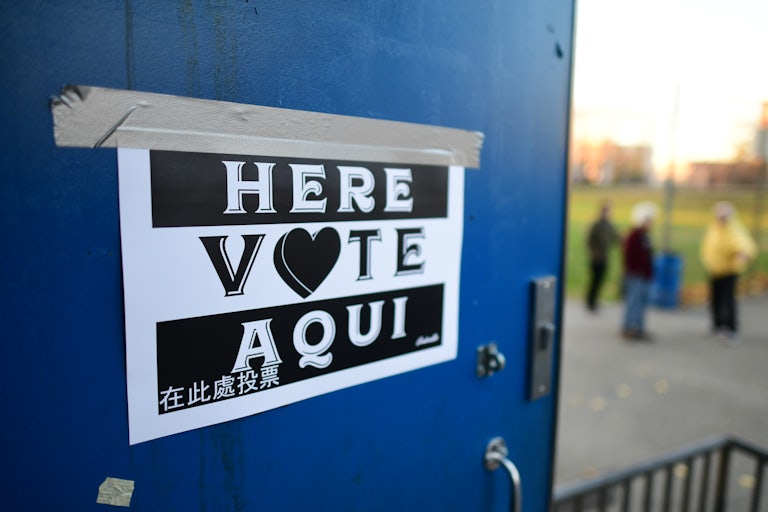 Mark Makela/Getty Images
Latino voters did not abandon the Democrats on Election Day, but the demographic's unquestioned support is starting to wane.
Despite widespread analyst predictions that Latino voters would swing Republican during the midterms, network exit polls and the AP found Wednesday morning that about 60 percent of Hispanic and Latino voters went Democratic.
That is lower than the previous midterm cycle, though, when about 70 percent of Hispanic and Latino Americans voted Democratic.
In the weeks leading up to the election, multiple reports indicated that Democrats had taken the Latino community's support for granted and had not done enough to address the group's top issues.
Recent polls by the Pew Research Center, however, found that Latino Americans tend to have a generally positive view of the Democratic Party. About 63 percent of Latinos said in September that the party "really cares" about their community, and 60 percent said the party represents their interests.
Latino voters were also crucial in sending President Joe Biden to the White House in 2020, supporting the Democrat 2-1 over Donald Trump.

But Trump over-performed among Latinos in Florida and Texas during that presidential election, shaking the belief that the Hispanic vote is a solidly Democratic monolith.
Instead, Latino Americans are proving to be the new swing voter demographic. Democrats such as Nevada Senator Catherine Cortez Masto sought to reach out to Latino small business owners, to ensure they did not feel forgotten by Washington lawmakers.
It remains to be seen whether that paid off for her.