Who Is Byron Donalds? More on the Republican Running Against McCarthy for House Speaker
Twenty Republicans have rallied behind Donalds, to block Kevin McCarthy's bid for House speaker.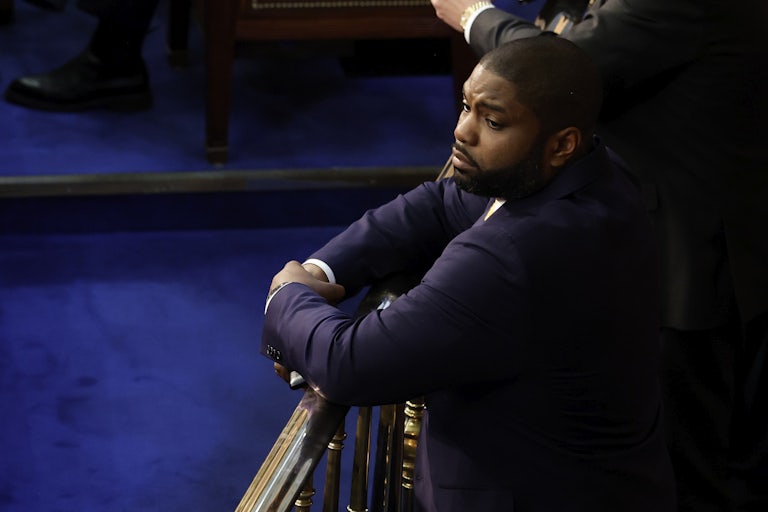 Chip Somodevilla/Getty Images
Byron Donalds has become the new preferred House speaker candidate for the Republican bloc opposing Kevin McCarthy's bid for the gavel. The Florida congressman made waves Tuesday when he defected from McCarthy, voting instead for Representative Jim Jordan on the third vote.
Donalds was nominated for House speaker twice on Wednesday, and secured all 20 Republican votes against McCarthy.
Who is Byron Donalds beyond, as his initial nominator, Representative Chip Roy, said, a "Christian," a "family man," and now the second Black man nominated to lead the House?
Donalds, like Democratic leader Hakeem Jeffries, was born and raised in Brooklyn, New York. Having earned degrees in finance and marketing, Donalds worked at various financial and wealth management firms.
As a young man, Donalds had been arrested on a marijuana charge, which was apparently dropped through a pretrial diversion program. A few years later, Donalds pleaded guilty to a felony bribery charge for his role in a plot to defraud a bank—the charge was later expunged. "These were the actions of a young kid, I can't undo that," Donalds told a Fox affiliate in 2014.

Donalds first unsuccessfully ran for Florida's 19th congressional district in 2012. In 2016, he was elected to the Florida state House, going on to win the 19th congressional seat in 2020.
The Florida congressman came into Congress alongside a group of Republicans who called themselves the "Freedom Force," a counterpart to the Democratic "Squad" that vowed to combat the supposed "evil" of socialism.
Part of this mission apparently entailed lobbying for federal funding for a cobalt plant—one started by an entrenched Republican consultant who once ran the Conservative Leadership PAC and led a firm that netted nearly $1 million from Republican campaigns.
Donalds also enjoyed support from former President Donald Trump in 2020 and 2022. Donalds returned the initial favor, voting to object to the certification of Arizona's and Pennsylvania's 2020 presidential election results.
In November, Donalds competed against Representative Elise Stefanik for the role of conference chair, the fourth-highest-ranking position in leadership. Stefanik, who has proudly positioned herself as a Trump supporter, had already endorsed Trump for the 2024 elections; Donalds has not yet done so. Stefanik won the position.
Alliances, just like those in the broader competition for House speaker, are not entirely clear. Trump and many of his allies have stood behind McCarthy. Meanwhile, Donalds and the 19 other Republicans going against McCarthy, who previously echoed how much they love Trump, now say even his support isn't enough.