Marjorie Taylor Greene Is Facing Her First Big Purity Test
The belle of the fringe-right ball is increasingly facing friendly fire since throwing in her lot with House Speaker–wannabe Kevin McCarthy.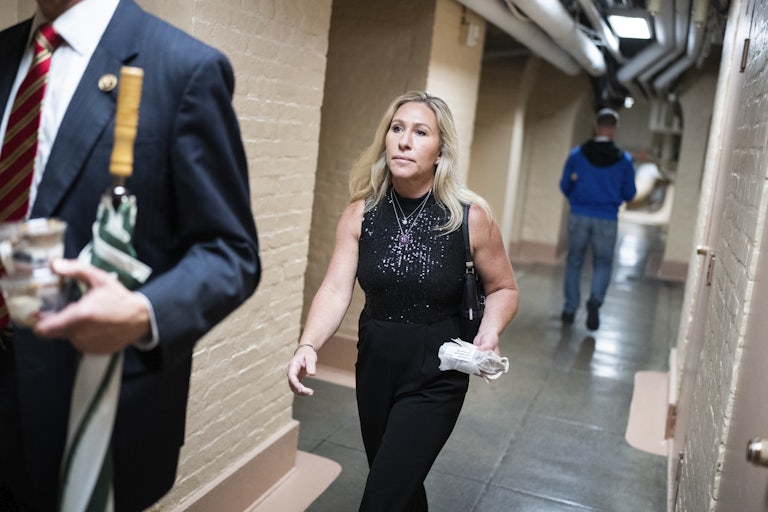 Tom Williams/Getty Images
In an essay published last Wednesday in The Daily Caller, Greene accused a group of lawmakers who have dubbed themselves the "Never Kevin Five" of lying to voters when they claim that there will be a viable alternative candidate who can successfully challenge McCarthy for the Speaker's gavel. "Lying to the base is a red line for me," Greene wrote.

Never Kevin-er Andy Biggs fired back a few days later. "She's kind of crossed the Rubicon there. She's calling us liars and saying we're misleading," he said on Lindell TV. (Apparently, neither of these two avid conspiracy theorists and election deniers sees the irony here.)

McCarthy, still a staunch ally of former President Donald Trump, has made no secret of his desire to be speaker. He has already unveiled a host of plans for when he and his party take control of the House of Representatives, including impeaching various cabinet members, investigating Hunter Biden, scaling back aid for Ukraine, and attacking LGBTQ people's rights.

But he faces serious opposition, and not just from the "Never Kevin Five," which consists of Biggs, Bob Good, Matt Rosendale, Ralph Norman, and Matt Gaetz. Don Bacon, who is a more centrist Republican, has indicated he's willing to work with Democrats to elect a more moderate speaker.

Greene has urged her colleagues to unite behind McCarthy, but her alliance with the California representative does not appear to be going well for her.

The feud with Biggs is only the latest public beef she's had with a former ally. Greene and Colorado Representative Lauren Boebert—who previously were big on MAGA women supporting MAGA women—have locked horns over both Greene's support for McCarthy and her penchant for wild conspiracy theories.

Again, yes, the irony is lost upon all of the parties involved.