Kevin McCarthy Loses Speaker Vote in Historic Wave of Not Being Liked by His Own Party
This is the first time in 100 years that a majority party's nominee failed to win House speaker in the first round of voting. Congrats to Kevin McCarthy for making history by losing twice.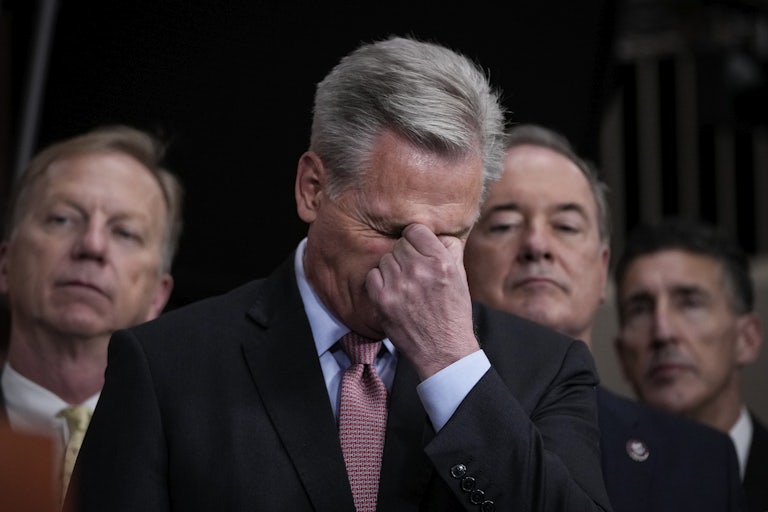 Drew Angerer/Getty Images
It's been a bad day for Kevin McCarthy, who lost two rounds of votes Tuesday to be speaker of the House, an outcome unseen in a century that threatens to unleash chaos as representatives rush to make deals.
The California Republican has made no secret of his desire to be speaker of the House, but he and his allies have been scrambling in the past few months to amass the votes necessary to win the gavel. Alabama Representative Mike Rogers went so far as to threaten to ban anyone who votes against McCarthy from sitting on a committee.
The two are now in a floor fight, or an instance when it takes multiple rounds of voting to pick a speaker. It will continue for as many rounds as are necessary to fill the position.
In Congress's 200-year history, there have only been 14 instances in which it took more than two ballots to confirm the House speaker. The last one was exactly 100 years ago. It took nine rounds of votes to resolve that battle.
Lawmakers can adjourn between rounds of votes to try to compromise. But it's still not clear if McCarthy can make enough deals to finally get what he wants.
Five lawmakers, who have dubbed themselves the "Never Kevin Five," have sworn not to vote for him no matter what. Another seven also seem unlikely to come around, according to Time. The holdouts don't trust McCarthy and consider him too wishy-washy on issues that are important to them, such as impeaching President Joe Biden, and too likely to bend in order to stay in power.

Congress cannot move forward until the speakership is filled, so the voting will continue until someone wins. McCarthy can still pull it off, but it will be a vicious slog.
This piece has been updated.