Who Is Andy Biggs? More on the Man Challenging McCarthy for House Speaker
The far-right lawmaker from Arizona is a big supporter of Donald Trump.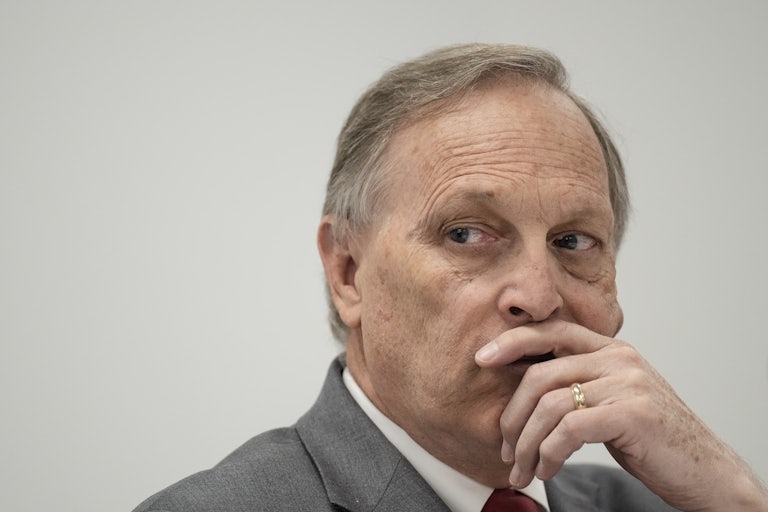 Drew Angerer/Getty Images
Arizona Representative Andy Biggs intends to challenge Kevin McCarthy for speaker of the house.
The far-right lawmaker announced his plan Monday night on Newsmax, as Republicans creep ever closer to controlling the House of Representatives.
Biggs was elected to Congress in 2016, when he campaigned on the goal of advancing then-President Donald Trump's political agenda. He is a former chair of the House Freedom Caucus, a group of the most conservative politicians on the Hill.
Biggs has been subpoenaed by the committee investigating the January 6 attack on the Capitol, but he has refused to cooperate. He has also made cruel jokes about the brutal attack on current House Speaker Nancy Pelosi's husband.
"We're going to show Nancy Pelosi the door very shortly," he said during an election night event. "Don't let it hit you on the backside, Nancy. She's losing the gavel but finding the hammer."
McCarthy, the House minority leader, has made no secret of his ambitions to move up in the chamber. Despite the distinct lack of the promised "red wave" on election night, McCarthy was already campaigning to be speaker of the House.
But his party is clearly not unified behind him. Dozens of conservative leaders on Monday penned a letter calling for a delay in the House leadership vote until next month.
And although far-right Representative Marjorie Taylor Greene has urged her colleagues to back McCarthy, Biggs is not the only challenger he will face. Representative Steve Scalise is also running to be majority leader. Florida Congressman Matt Gaetz has said he backs Jim Jordan for House speaker, and Virginia Representative Bob Good also spoke out against McCarthy.
McCarthy seems to be getting desperate. The Wall Street Journal reported Monday that the minority leader's team had made several calls to Texas Democratic Representative Henry Cuellar asking him to switch parties, giving McCarthy an extra vote.
Cuellar turned them down, the Journal said, citing anonymous sources familiar with the calls.