McCarthy Defectors Call Jim Jordan the "George Washington" of Our Generation
In an attempt to block Kevin McCarthy from becoming House speaker, Republicans are now comparing Jim Jordan—who doesn't want the job—to George Washington.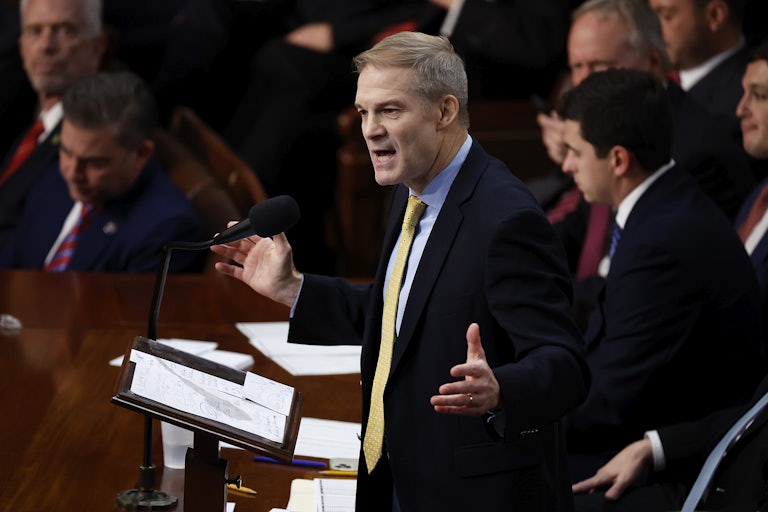 Chip Somodevilla/Getty Images
While far-right Republicans continue to block Kevin McCarthy's bid to become the speaker of the House, they have rallied behind one man as their preferred alternative: Jim Jordan, or as Representatives Lauren Boebert and Scott Perry say, the George Washington of our generation.
"Our candidate is Jim Jordan," Boebert said Tuesday on Fox. "He may not want it right now, but George Washington did not want to be president. He did what was right for his country."
Perry echoed the same point a day later on Fox Business.
Representative Matt Gaetz has helped lead the House Republican defectors' charge to keep the gavel out of McCarthy's hands and to instead put it in Jordan's hands. Meanwhile, Jordan purports not to want the job, having even endorsed McCarthy himself. As a result, Gaetz and company cite Jordan's hesitancy as proof of why Jordan would be a good leader. Just as Washington didn't really want to be president and did anyhow, the thinking goes, so this moment calls for Jordan to rise to the occasion.
Perry's comments comparing Jordan to the first president of the United States notably came the same morning that twice-impeached former president and target of numerous investigations Donald Trump announced his full-throated support for McCarthy.

"Sad!" Gaetz told Fox News after Trump's endorsement. "This changes neither my view of McCarthy nor Trump nor my vote."

"Supporting McCarthy is the worst Human Resources decision President Trump has ever made," Gaetz tweeted.
Not for nothing, John Trumbull's painting General George Washington Resigning His Commission is on display just down the hall from congressional hijinks, in the Capitol Rotunda. The painting depicts the moment when Washington resigned from his position as commander-in-chief of the Continental Army, signifying his—and America's—step away from militant autocracy and toward some semblance of a republic. "If he does that, he will be the greatest man in the world," King George III is thought to have said upon learning of Washington's resignation.
That is the kind of virtue Boebert and company are now trying to ascribe to Jordan.