House Democrats Elect Hakeem Jeffries as Party's First Black Leader
Jeffries, along with Katherine Clark and Peter Aguilar, is part of a new generation of House Democratic leadership.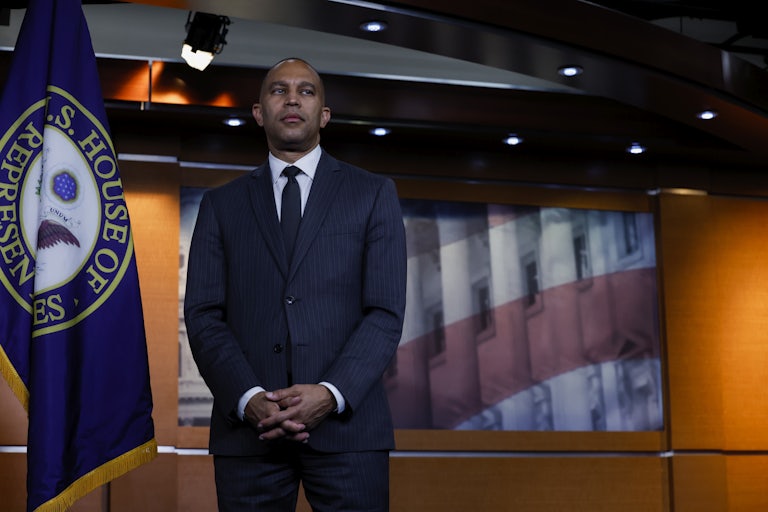 Anna Moneymaker/Getty Images
On Wednesday morning, House Democrats voted unanimously to elevate New York Congressman Hakeem Jeffries to lead the party. Jeffries becomes the first Black person to lead a major party in either the House or Senate. He will serve as minority leader in the upcoming Congress.
Jeffries, 52, ran unopposed, with Massachusetts's Katherine Clark, 59, succeeding Jim Clyburn as whip and California's Peter Aguilar, 43, succeeding Steny Hoyer as leader of the House Democratic caucus. The trio's ascendance marks a stark generational change from their predecessors. House Speaker Nancy Pelosi and Clyburn are both 82; Hoyer is 83.
The elder leaders will continue serving as rank-and-file members of Congress—while still maintaining a touch of influence. On Tuesday, House Democrats voted unanimously in a committee to designate Pelosi as a "speaker emerita." Clyburn will become an assistant leader.
Jeffries was born and raised in Brooklyn, near the district he now serves. Jeffries first began his career as a corporate lawyer. He then worked for Viacom and CBS before getting elected to the New York State Assembly, serving from 2007 to 2012.
In 2015, Jeffries introduced a bill to make the use of a chokehold illegal under federal law, after the NYPD's killing of Eric Garner. In 2018, Jeffries's co-authored First Step Act passed, prompting the development of education, vocational, and mental health counseling programming for formerly incarcerated individuals.
Jeffries has garnered some skepticism from the left. In 2016, he criticized a unanimous U.N. resolution denouncing Israel's settlement activity as a "flagrant violation" of international law. Jeffries argued that President Obama should have gone against the 14 nations who voted in favor of it and vetoed the resolution instead of abstaining.
Jeffries has also collected hundreds of thousands from industry donors embedded in investment, real estate, and lobbying. He has received the support of pro-Israel groups, including AIPAC, which has deliberately worked to tank Democratic candidates and support election denialists.
Nevertheless, Jeffries takes the mantle as party leader with little internal opposition. Now he is tasked to honor that support and push forward a strong progressive agenda that respects those who elected not to challenge him.