Trump Organization Fined $1.6 Million for Tax Fraud and Conspiracy
The Trump Organization received the maximum penalty possible under New York law, after being convicted of running a 15-year tax fraud scheme.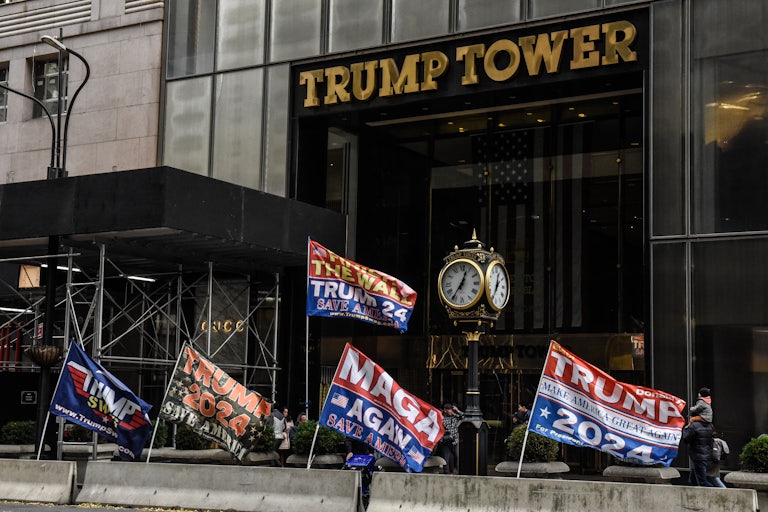 Stephanie Keith/Bloomberg/Getty Images
The Trump Organization was fined $1.6 million Friday morning for tax fraud, conspiracy, and other crimes as part of a 15-year scheme that compensated top executives off the books.
Two subsidiaries of the organization, Trump Payroll Corp. and Trump Corp., were hit with the highest possible fines under New York State law at the Manhattan criminal hearing.

The two companies were found guilty last month—just weeks after Donald Trump announced his third consecutive run for president—on 17 criminal counts, including scheming to defraud, conspiracy, tax fraud, and falsifying business records.

The sentence will not dissolve the company, nor send anyone to jail. But Trump Organization CFO Allen Weisselberg was sentenced Tuesday to five months in jail for his role in leading the scheme to defraud state and federal tax authorities for over 15 years. Weisselberg himself had been accused of receiving some $1.7 million in secret compensation throughout the scheme.
"Trump Organization Chief Financial Officer Allen Weisselberg used his high-level position to secure lavish work perks such as a rent-free luxury Manhattan apartment, multiple Mercedes Benz automobiles and private school tuition for his grandchildren—all without paying required taxes," said Manhattan District Attorney Alvin Bragg in a statement.
Weisselberg was able to net a lighter sentence after agreeing to testify on the scheme.
Trump, denying any wrongdoing even while not being a defendant in the first place, called the case "a continuation of the Greatest Political Witch Hunt in the History of our Country."
Numerous documents have implicated Trump to some degree. Jeff McConney, the senior vice president at Trump Corp., even implicated Trump in the scheme at first but then walked back that testimony. McConney's legal fees are paid for by the Trump Organization.
Trump still faces numerous other investigations—on the state and federal level—for his seizure of classified documents after he left the White House, his efforts to overturn the 2020 election, and the accuracy of the Trump Organization's financial records and valuations.
The New York attorney general is also pursuing a $250 million civil lawsuit into whether Trump's asset valuation statements were indicative of fraud. Last week, a judge denied Trump's appeal to dismiss the case, calling his legal team's arguments "frivolous." Among financial penalties, Trump and his family could be barred from leading business operations in New York ever again.