Marjorie Taylor Greene Calls for Mass Protests Over Trump Indictment
The far-right Georgia congresswoman said she'll join the protests herself.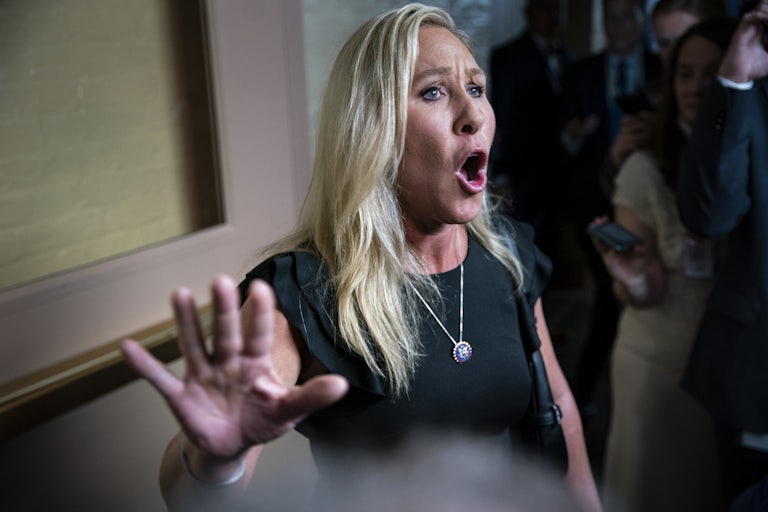 Al Drago/Bloomberg/Getty Images
While twice-impeached former President Donald Trump made history by becoming the first former president to be criminally charged, other parts of history should also be heeded. For example, when Marjorie Taylor Greene calls for mass protests, you ought to take it seriously.
On Friday, the far-right congresswoman announced she will be heading to New York to protest the criminal indictment of Trump, who is said to face more than 30 counts related to business fraud for his role in paying hush money to porn actress Stormy Daniels. Trump is expected to be arrested Tuesday.
Greene's comments once again dispel the momentary media narrative that she was undergoing some kind of moderate rebrand. Just weeks ago, she had called for a "national divorce." And now, she is calling for mass protest against the justice system finally potentially holding someone powerful accountable.
Note that while Greene continues to exhibit what has always been clear—that she is a radical not interested in national unity or any semblance of equal justice under the law—House Speaker Kevin McCarthy has maintained warm relations with her. McCarthy has said he would "never leave" and "always take care of" Greene.

McCarthy, one of the most powerful Republicans in government who has also condemned Trump's indictment, has not yet commented on Greene's call for mass protest. That's not to be taken lightly.