John Cornyn Calls GOP Effort to Slander Trump Investigators Waste of Time
The Republican senator had some words for the rest of his party.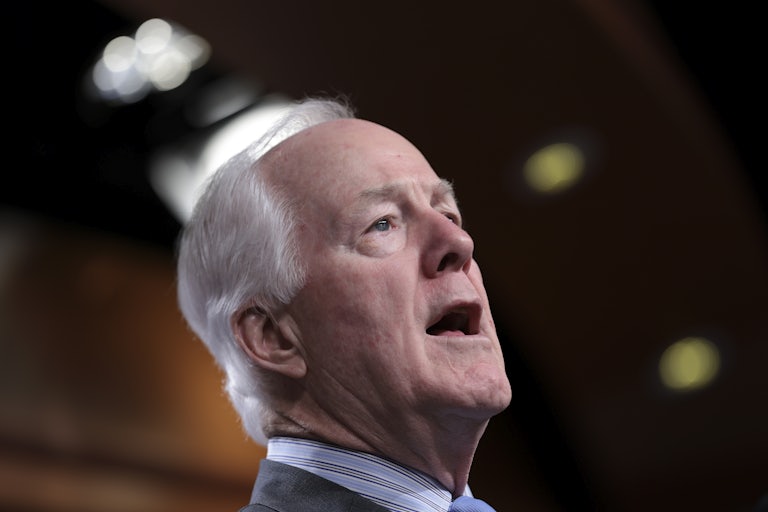 Win McNamee/Getty Images
Congressional Republicans and right-wing media figures are working to discredit the Manhattan district attorney in the lead-up to a potential indictment of Donald Trump. Republican Senator John Cornyn, a two-decade member of Congress and prominent party figure, finds the effort to be a distraction.
"There's more than enough to do," Cornyn told Punchbowl News. "I would hope they would stick to the agenda they ran on when they got elected to the majority."
The pronouncement by Cornyn may seem tame, but it is still significant given how much stock Trump puts into seeing who sticks out for him, and who does not.
Other Republicans have thus far mostly criticized the investigation into Trump's alleged hush-money payment to porn actress Stormy Daniels, rather than the former president himself. Senator J.D. Vance lambasted the ongoing investigation as a baseless inquiry funded by George Soros.
House Majority Leader Kevin McCarthy and Republican Conference Chair Elise Stefanik have also perpetuated the conspiracy about Manhattan District Attorney Alvin Bragg serving at the behest of Soros. Stefanik went even further, saying that while Manhattan allows such a supposedly baseless investigation, Bragg has brought "skyrocketing crime" to the city. The latter claim is demonstrably false (violent crime has decreased since Bragg's election).

The claim about Soros is rooted in a right-wing antisemitic scare campaign about wealthy Jewish people nefariously influencing society. This organized campaign straight from the top of Republican leadership comes from the same people who shamelessly booted Representative Ilhan Omar off a House committee for a comment she said was not meant to be taken as antisemitic but apologized for nonetheless. Republicans have never apologized for their continual invocation of the Soros conspiracy theory.
Cornyn may complain of the behavior of Republicans like McCarthy and Stefanik (not the hypocrisy about antisemitism), but he is mistaken if he thinks this was not exactly the agenda radical House Republicans "ran on when they got elected to the majority." This kind of time-wasting, hypocritical, obstructive rhetoric was always on the front burner for Republicans—and is one reason why their "majority" is barely one at all anyhow.