CNN's Trump Town Hall Was a Total Disaster
Trump told a record number of lies during the town hall, and he got away with it.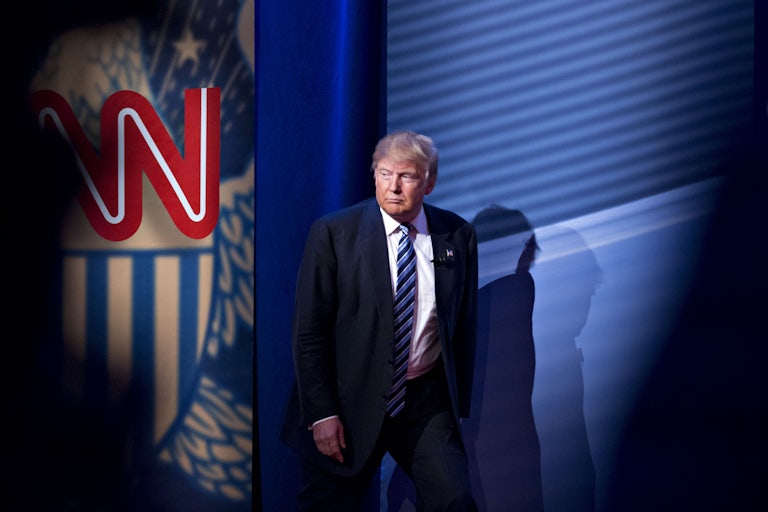 Daniel Acker/Bloomberg/Getty Images
Twice-impeached, criminally indicted former President Donald Trump had an hour's worth of exclusive time with CNN—one day after he was found liable for sexually abusing and defaming E. Jean Carroll.
Despite CNN's Kaitlan Collins's valiant effort with the conditions she was given, the fundamental structure of the night was not complementary to what anyone might imagine "good journalism" looking like. The network gave Trump a friendly audience of voters who seemed to largely agree with him on most things; seldom a "battleground of ideas," the night's only challenges came from Collins. But Trump sprayed lie after lie after lie, which is difficult for anyone to fact-check in real time.
Here are just some of the lies Trump threw at the wall, with a jeering and laughing audience buoying him throughout.
Doubled down on the Big Lie

that the 2020 election was rigged.

On pressuring Georgia's secretary of state to find missing votes:

"I didn't ask him to find anything."

Then-Vice President Mike Pence "should have put the votes back to the state legislatures, and I think we would have had a different outcome." The vice president does not have such authority, and numerous Trump allies have admitted that such a process would have been illegal.

On the January 6 riot: "I offered them 10,000 soldiers." There is

no evidence

Trump ever made a request to the National Guard for support, or that Democrats or Washington, D.C., rejected such assistance.

"The Presidential Records Act is not criminal. I took the documents. I'm allowed to."

Documents "

become automatically declassified when I took them

.

"

President Obama took classified documents from the White House.

On E. Jean Carroll: "

This woman, I don't know her. I never met her. I have no idea who she is.

"

The judge in the E. Jean Carroll case

"

allowed us to put nothing in"

during the defamation and sexual abuse trial.

President Obama

separated families

at the border first.

Other countries are sending "migrant families" from mental institutions to the U.S.

People don't speak English in Chinatown [false, and racist].

"We created the greatest economy in history. A big part of that economy was I got you the biggest tax cuts in the history of our country, bigger than the Reagan cuts." Average growth under Trump was lower than in numerous other administrations; moreover, Trump's tax cut disproportionately benefited the wealthy, rather than low-income or middle-class families. In 2018, after Trump's tax cuts passed, the richest 400 families in America paid an average effective tax rate

lower

than what the bottom half of American households paid.

"They could kill the baby

at the ninth month or after it was born

" before the overturning of

Roe v. Wade.
This is not an exhaustive list of all the lies, especially the more minute ones, Trump told during the town hall. Just during his four years in office, it is estimated that Trump lied to, or misled, the American people over 30,000 times.