CNN Lets Donald Trump Smear E. Jean Carroll, as Audience Laughs Along
Trump was found liable of sexual abuse. His base doesn't even care.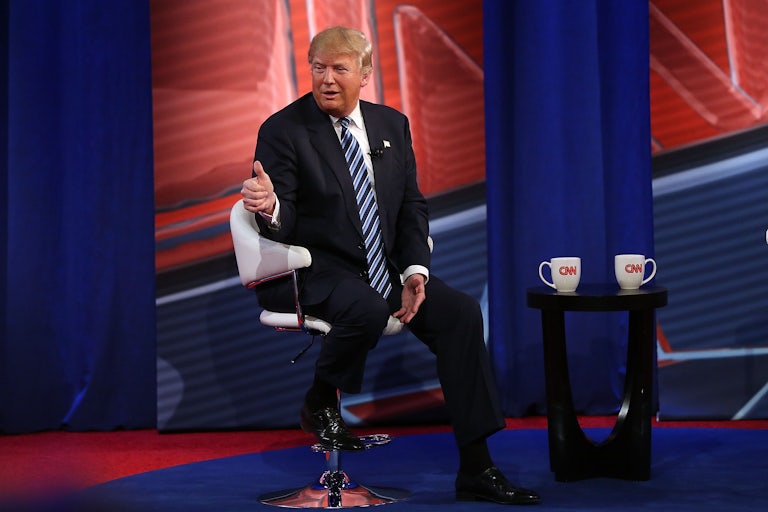 Spencer Platt/Getty Images
Donald Trump
Twice-impeached, criminally indicted former President Donald Trump was asked during the CNN town hall Wednedsay for his response to being found liable for sexual abuse and defamation.

Trump attempted to discount E. Jean Carroll's testimony, calling it "crazy," but the more he went on, the more it seemed like he was imbuing his own fond memories (or fantasies) of what happened with the woman Trump was found liable for sexual abusing.

"This woman said I met her at the front door of Bergdorf Goodman, which I rarely go into other than for a couple of charities," Trump began.
"I was immediately attracted to her, and she was immediately attracted to me. And we had this great chemistry," Trump said, as if forgetting that he was trying to discount Carroll's testimony. "And a few minutes later, we ended up in a room, a dressing room at Bergdorf Goodman, right near the cash register," he continued amid laughter from the audience.
"What kind of a woman meets somebody and brings them up and within minutes you're playing Hanky Panky in a dressing room?" Trump said, musing about whether Carroll was married at the time or not.
Kaitlan Collins also asked Trump about whether he stands by defending the comments he made in the Access Hollywood tape about being able to grab women.
Trump doubled down. "I said, if you're famous and rich, or whatever I said," he began. "But I said, 'If you are a star…' I said, 'Women let you.'"

"If you're a famous person, if you're a star—and I'm not referring to myself—I'm saying people that are famous, people that are stars," Trump continued, before Collins interrupted to note that Trump had called himself a "star" during his deposition.
After some cross talk, Trump continued: "They tend to do pretty well in a lot of different ways. OK. And you would like me to take that back. I can't take it back because it happens to be true. I said it's been true for one million years, approximately a million years, perhaps a little bit longer than that."

In a very tellingly simple manner, it's remarkable that Trump didn't even pretend to also say something like, "I wish it weren't true," or solidly affirm that he himself does not take advantage of this supposed system where "women let you do it."
Perhaps the laughter and jeering helped Trump ignore the possibility that some people may find what he was saying incredibly disgusting.