House GOP's Debt Ceiling "Plan" Calls for Medicaid and SNAP Work Requirements
The Republican proposal would fail at addressing the debt but would succeed in making people's lives worse in more ways than one.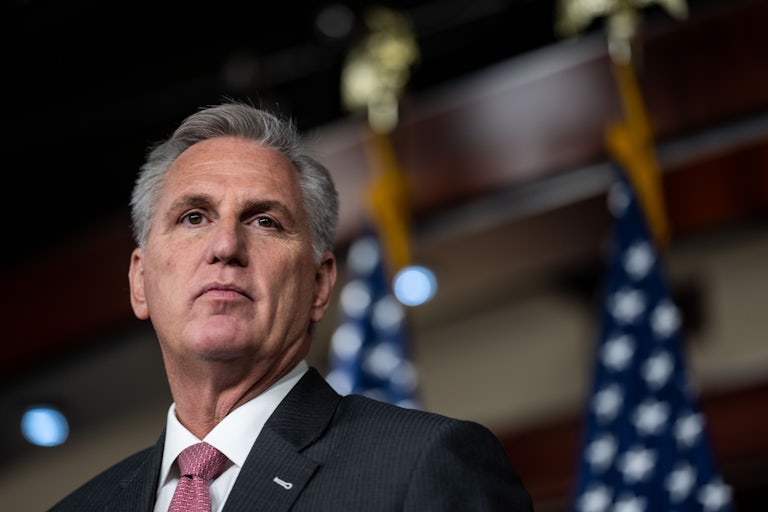 Kent Nishimura/Los Angeles Times/Getty Images
Republicans have introduced a debt ceiling plan that really just increases social, environmental, and financial costs.
On Wednesday, House Speaker Kevin McCarthy revealed a GOP debt ceiling bill that would instate work requirements for Medicaid and food stamps, reduce funding for the Internal Revenue Service, repeal green energy programs, and block President Biden's student loan forgiveness plan.

The bill is not even guaranteed to pass the Republican-controlled House and has little chance of passing the Senate. But McCarthy's bill is less about getting something done than trying to compel Democrats to join Republicans' push to cut spending on services essential to hundreds of millions of people in this country.
On Medicaid, Republicans want recipients to fulfill certain income and work thresholds. If they don't, states could kick them off their health insurance plans. A Congressional Budget Office report estimated that Medicaid work requirements would cause two million people to lose health coverage.
Republicans also want work requirements for the Supplemental Nutrition Assistance Program, or SNAP. Adults without children must fulfill work requirements up to the age of 56, overturning current law that has the threshold at age 49. Not only are such cuts punitive in nature, but they effectively leave people more vulnerable to precarity. The less we support people preemptively, the higher the costs will be if they fall through the cracks.

On the proposed IRS cuts, the only thing conservatives would be "saving" is bloated tax evaders. A CBO analysis found that the IRS program would in fact reduce the deficit by $120 billion over the next decade (as in, the Republican proposal would add to the deficit).
The proposal also calls to repeal numerous green-related provisions of the Inflation Reduction Act, like tax credits for electric vehicles. And as we have seen, the more slowly we transition from fossil fuels to a greener economy, the more climate disaster we will face and, consequently, the more astronomical the human and financial cost will be. The conservative insistence on appeasing the fossil fuel industry and obstructing climate-friendly solutions is not only deeply crooked but fiscally irresponsible.
Such a dynamic is just as pressing when considering that the bill blocks Biden's plan to relieve 43 million people from crippling student debt. These are millions of working people who are trying their best to bloom and live more whole and productive lives but are hindered by the burden of such soulless debt. In the short term, Republicans may frame their ideas as cost-saving, but in reality, such measures will increase medium- and long-term costs on society.
All this to say, the GOP proposal is unserious on a few counts. For one, it is self-evidently not concerned with coming to fruition; the primary conservative goal is to egg Biden and Democrats on to support cuts, lest the government default. But moreover, the bill is not about "saving" at all; it encourages money to be stolen from the government by tax-evading elites who flout the IRS, it promotes fiscal irresponsibility by way of encouraging wasteful and toxic fossil fuel reliance, and it further welcomes future social and economic costs by ways of leaving—and pressing—a boot on millions of people.