Proud Boys Convicted of Seditious Conspiracy on January 6, While Trump Enjoys Golf Trip
Sounds about right.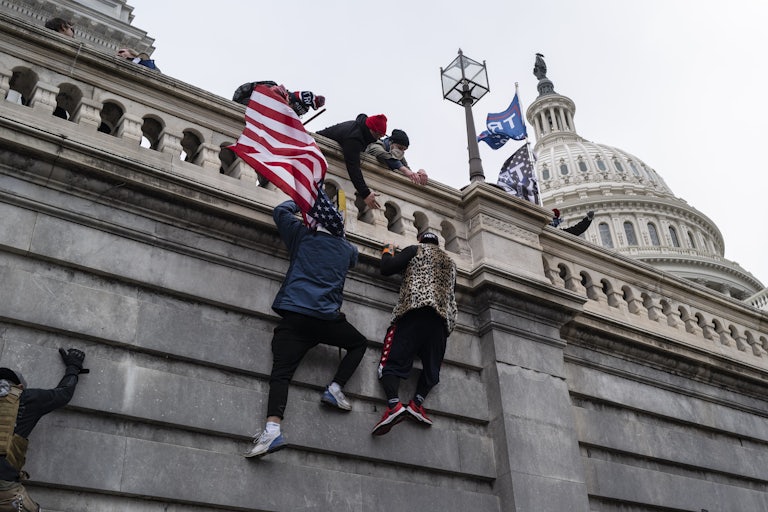 Michael Robinson Chavez/The Washington Post via Getty Images
A mob of Trump supporters stormed and breached the Capitol on January 6, 2021.
Four members of the far-right Proud Boys were found guilty of seditious conspiracy Thursday for their role in the January 6 attack on the U.S. Capitol, while the man accused of encouraging them enjoyed a golf trip.
The Proud Boys are a far-right, neofascist one known for promoting chauvinist views. Group chairman Henry Tarrio, as well as Ethan Nordean, Joseph Biggs, and Zachary Rehl were all found guilty of seditious conspiracy, conspiracy to obstruct Congress, and obstruction of Congress. A fifth defendant, Dominic Pezzola, was found guilty of obstruction of Congress, but the jury is deadlocked on whether he is also guilty of seditious conspiracy and conspiracy to obstruct Congress. The judge has ordered them to keep deliberating on the last two charges.
Donald Trump notoriously told the Proud Boys to "stand back and stand by" during the September 2020 presidential debate, which prosecutors argued the extremist group took as a call to action. The former president has been on a tour of his golf courses in Scotland and Ireland, although he said he is cutting the trip short to appear at his rape trial in New York. Trump's lawyer denied that he would appear.
The Justice Department cited hundreds of messages exchanged by Proud Boys in the days ahead of January 6. Group members pushed former President Donald Trump's lie that the election was stolen from him.

Prosecutors said that Proud Boys led the mob into the Capitol, riling them up and gesturing to them to enter the building. Justice Department lawyers said Pezzola in particular stole a police riot shield and used it to break open a window, which rioters used to enter the Capitol.
Tarrio wasn't in Washington for the attack because he had been arrested two days earlier in a separate case and ordered to leave the city. But he encouraged the mob on social media and in a Proud Boys group chat.
Tarrio is now the second leader of an extremist group who has been convicted of seditious conspiracy, a major win for the Justice Department. Oath Keepers leader Stewart Rhodes was convicted of seditious conspiracy in November for his role in the January 6 attack.
There have now been 14 convictions of seditious conspiracy on January 6—proof the attack on the Capitol was exactly what it looked like.
This story has been updated.