CNN, WTF Are You Thinking Having a Donald Trump Town Hall?
The former president has been impeached twice, criminally indicted, and is under investigation for rape. Now he gets to be on prime time.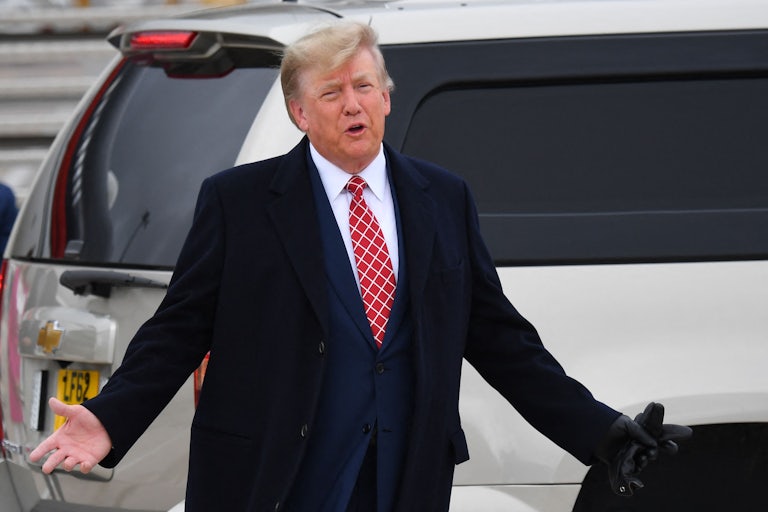 ANDY BUCHANAN/AFP/Getty Images
"If 'low ratings' CNN ever went Conservative, they would be an absolute gold mine, and I would help them to do so!"
This is what Donald Trump posted on Truth Social last September. And within a year of the post, while his reputation has tanked even further, CNN took him up on the offer.
Trump has been impeached twice, criminally indicted, and is under investigation for rape. He helped fan the flames of an election conspiracy that led to Fox Corporation forking over three-quarters of a billion dollars to stop further investigation into its own efforts to spread lies surrounding the election. And he still faces numerous other criminal investigations related to his efforts to overthrow our democracy.
And next week, CNN is hosting an exclusive town hall with him.
A video ad for the town hall looks more like a time capsule from 2015 than, for instance, content that would present even remote awareness of every scandal Trump is currently implicated in.
It is no secret that CNN has been on a lurch toward disinterested and lazy journalism, at least on the television side of things, mainly since the ascendance of new network President Chris Licht. He has discouraged reporters from calling Trump's monumental lies about the 2020 election "the Big Lie." He has sought to make CNN focus on "straight-news reporting" (as if there is some objective meter that determines what constitutes "straight news" and there is no editorial decision-making as to what does and doesn't get covered beneath that umbrella, and how any of it is covered). CNN higher-ups have overall reportedly expressed an interest in shifting to the right.
And Licht is only one piece of the puzzle. CNN's new owner, Warner Brothers Discovery Inc., is headed by David Zaslav, who seems to measure the success of the network's shift mainly by how many Republicans it gets on air. Zaslav is also very close with Warner Brothers' leading shareholder, John Malone, a self-described "libertarian" who once held 32 percent of the shares of Rupert Murdoch's News Corporation and also donated $250,000 to Trump's inauguration. Malone has echoed desires for CNN to "evolve back," suggesting Fox as a role model network, by having "'news' news, I mean some actual journalism, embedded in a program schedule of all opinions."
That formulation tells you all of what the CNN higher-ups mean by wanting to shift to "straight-news" or "objective" analysis—patently right-wing and power-serving programming that platforms the type of conspiratorial lies that may lead to a $787.5 million lawsuit.
Perhaps the worst part of it all is that, despite the right's perennial wailing, CNN is not in fact a meaningfully left-leaning network. Sure, like other mainstream big-box outlets, it has a liberal tilt. But there ought not be the illusion that the network has served as some bastion for the broader left base—workers, young people, people of color, environmentalists, anti-war voters, to name just a few groups seldom represented by the network's day-to-day coverage. And let's not forget how much free press CNN and other big-box outlets gave Trump in the lead-up to the 2016 election, nor how many former Trump officials were allowed to rehabilitate their own careers serving as talking heads and experts on the network's airwaves.
And after nearly eight years of think-pieces, reflections, and "important conversations" within media circles, CNN is doing exactly what prompted so much reflection in the first place: giving open air to a man who warrants none of it. Only this time, Trump isn't just coming with the baggage of decades of shady financial dealings, suspicions of sexual misconduct, and even calling for the hanging of the Central Park Five. He's coming with every despicable act America, and the world, has witnessed since CNN helped manufacture tolerance for him eight years ago.
Buckle up while you're at it: A Trump adviser has said that the town hall is part of a larger effort "to jumpstart the relationship" CNN and Trump's team shared in the past.