House Conservatives Cut Off GOP Bill to Spite Their Own Speaker
A symbolic bill on gas stoves flamed out because of conservative anger at McCarthy over the debt ceiling deal.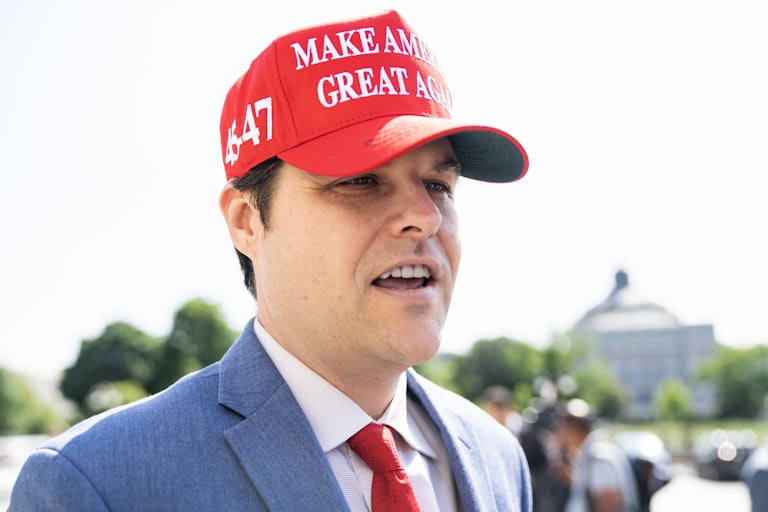 Tom Williams/CQ-Roll Call, Inc/Getty Images
Representative Matt Gaetz
A crew of conservative Republicans, still stewing over debt ceiling legislation negotiated by Speaker Kevin McCarthy and President Joe Biden, demonstrated their ire on Tuesday by blocking a Republican bill from a full House vote.
"We warned them not to cut that deal without coming down and sitting down to talk to us," Representative Chip Roy told reporters after the vote. "So this is all about restoring a process that will fundamentally change things back to what was working."
Twelve Republicans voted against the rule that would have established the terms of the floor debate for a bill to prevent gas stoves from being banned, joining all Democrats in voting against it. The House cannot consider a bill without first adopting a rule, which establishes the terms of the floor debate, including how long it will transpire and whether and how the bill being considered can be amended. House rules are generally party-line votes (the rule for the debt ceiling bill was a rare exception), meaning that with such a narrow GOP majority, a few recalcitrant Republicans could gum up the works. The last rule vote that failed occurred in 2002. (The good news for gas stoves' would-be defenders is that leadership may bring up a motion to reconsider the rule to allow floor debate and a vote on the bill.)
The conservative dissenters griped that Republican leadership backtracked on bringing up an unrelated bill by Representative Andrew Clyde, a Freedom Caucus member, which would repeal an administration regulation on pistol braces. (Clyde himself did not vote against the rule, and told Politico that he believed his bill would come to the floor next week.) But while their frustration over the apparent snub to Clyde may have been the precipitating factor, the conservative anger with McCarthy and Republican leadership traces to their debt limit deal opposition.
"We're concerned that the fundamental commitments that allowed Kevin McCarthy to assume the speakership have been violated as a consequence of the debt limit deal," Representative Matt Gaetz, who voted against the rule, told reporters.
Conservatives insist that McCarthy violated promises he made when courting them to become speaker in January, when he underwent 15 grueling votes to earn the position. "I need him to abide by the promises he made when he was first elected speaker," Representative Ken Buck said. Buck said that while McCarthy had promised to cut government spending to fiscal year 2022 numbers, the debt ceiling agreement capped it to fiscal year 2023 numbers. Although that bill has been signed into law, Buck insisted that spending cuts should be addressed in upcoming appropriations legislation.
It was initially unclear whether conservatives will block future rules. Representative Dan Bishop said that he didn't see any "particular pattern" going forward. "There's no decision about rules [yet], but the problem that has been precipitated entirely by the speaker's approach to the debt ceiling package is going to have to be dealt with," Bishop said.

The debt ceiling deal's success last week, including conservatives backing down from a threat to try to topple McCarthy, appeared to indicate that the speaker had a firm grip on his conference. The rule failure, however, demonstrates that there are still ways for hard-liners to make trouble for McCarthy. He may not lose his position, but his inability to control the fate of a slam-dunk GOP messaging bill is a loss in itself.