GOP Lawmaker Erases Maxwell Frost's Valid Point on Student Debt From the Record
Representative Virginia Foxx, a top recipient of cash from student loan companies and for-profit colleges, acted offended by Frost's comments on student debt relief.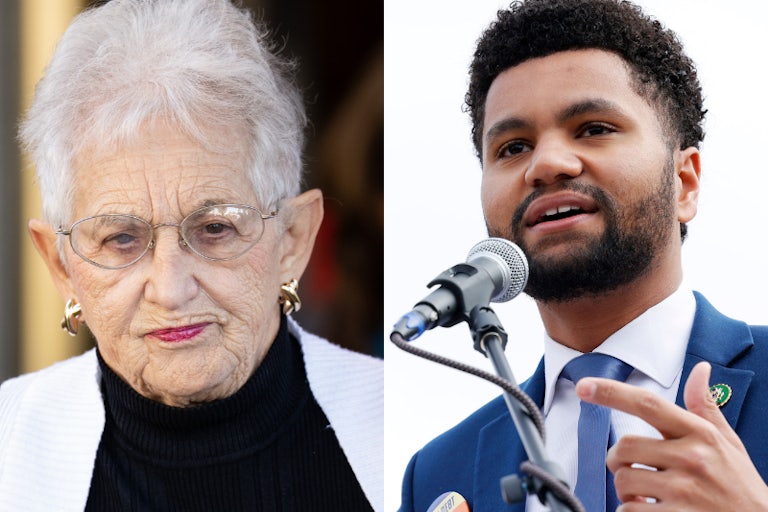 Bill Clark/CQ-Roll Call, Inc/Getty Images Jemal Countess/Getty Images for People's Rally to Cancel Student Debt
Maxwell Frost deconstructed a central conservative talking point against relieving millions of people from student debt—and apparently offended an absurdly bought-out Republican representative while doing so.

"If we legislated using the logic that you bring to this issue today, women and Black folks wouldn't have the right to vote because it would be unfair to those who never got to vote before them," said Frost on the House floor Wednesday, speaking against a resolution to repeal President Biden's student loan debt forgiveness plan. "If we legislated using your logic, that because there was an injustice, we can't fix it because it's unfair to those who never had it fixed, means we would never progress on any issue in this country."
"Why do you bring that bigoted logic to this issue as it relates to students, but not any other issue?"
The "bigoted logic" remarks prompted Republican Representative Virginia Foxx, whom Frost was addressing, to apparently become offended.
"I demand his words be taken down," Foxx said with a frown.

Frost agreed on his own part to withdraw the "offending words" and proceed onward.
"If we used this logic on every single issue, we would never have progress on anything," he said. "And the truth of the matter is that young people and people don't have student debt because we live beyond our means. We have student debt because we've been denied the means to live."
Foxx's bristling at Frost's remarks are unsurprising. In numerous election cycles, the almost two-decade North Carolina representative has been the leading recipient of donations from the for-profit education industry and from student loan companies, according to OpenSecrets.
Recall, these figures are out of 435 House members.
In total, Foxx has received over $665,000 from the for-profit education industry and another $86,000 from student loan companies.
The cozy relationship began in 2006—her first reelection cycle—when she was one of the leading House recipients of cash from student loan companies, raking in over $10,000 from the industry. From 2014 through 2022, she remained in the top 10 recipients from the industry; in 2016 and 2018, she was the leading recipient.
And in the for-profit education industry, the figures are even more staggering. From 2016 to 2022, Foxx was the number one recipient of cash from the industry, collecting hundreds of thousands of dollars each cycle. In 2014, she was the number-two leading recipient; in 2012, the seventh-leading one.
For-profit schools are infamous for defrauding students and charging them exorbitant amounts of money, making false promises of what kind of education they offer, and deceptively targeting marginalized communities and veterans.
All this cash has left Foxx a longtime proponent of leaving students with crippling debt—impairing the economic and social prosperity they could gain by not being held down by such a burden.
"I have very little tolerance for people who tell me that they graduate with $200,000 of debt or even $80,000 of debt because there's no reason for that," Foxx once said on a radio show, further complaining that students want success "dumped in their lap."
Meanwhile: