Broadway Actress Compares Ron DeSantis to KKK "Grand Wizard" at Tony Awards
Denée Benton called out the governor of her home state while presenting an award at the Tonys.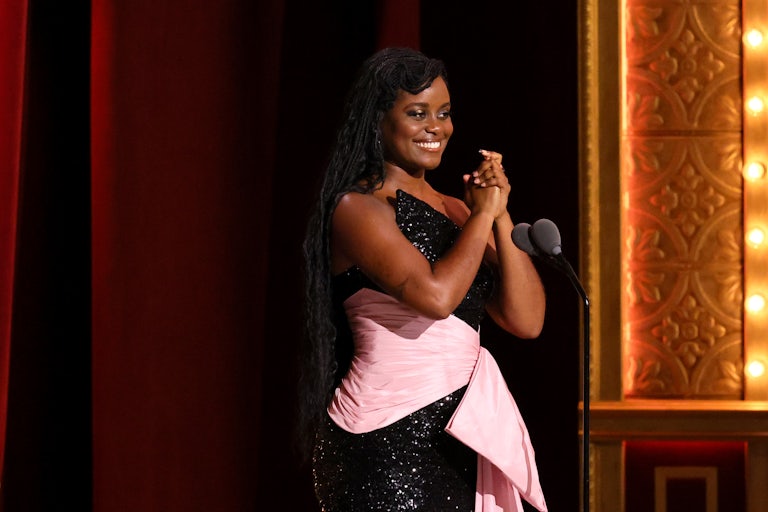 Theo Wargo/Getty Images for Tony Awards Production
Denée Benton speaks onstage during the 76th Annual Tony Awards on June 11, in New York City.
Actor Denée Benton compared Ron DeSantis to the leader of the KKK while she presented an award at the Tony's, a clear jab at the Florida governor's recent attacks on human rights.
Benton presented an award for theater education to a school in Florida. The actor, known for shows including Natasha, Pierre, and the Great Comet of 1812, noted that she is also from Florida.
"I'm certain that the current Grand Wizard—I'm sorry, excuse me, governor of my home state of Florida," Benton said during her presentation speech. She was cut off by cheers.
"I am sure that he will be changing the name of this following town immediately."
Benton then presented the award to the South Plantation High School in Plantation, Florida.
While Benton did not elaborate on her remark, it was a clear comment on the recent policies that DeSantis has passed or pushed in Florida. He defunded diversity, equity, and inclusion programs, helped gut the A.P. African American Studies course, and backed measures to ban books in public schools. In May, the NAACP issued a travel advisory for Florida, calling the state "openly hostile towards African Americans and other communities of color."
DeSantis's attacks on civil rights also include a "Don't Say Gay" law, banning classroom discussion of gender or sexuality in all grades, and a six-week abortion ban. He has enacted multiple laws targeting LGBTQ people, particularly drag queens and transgender children. A recently signed law banning gender-affirming care for minors has been partially blocked by a judge.
DeSantis has also gone to war with two major Florida institutions: the liberally minded New College and Disney. DeSantis installed a board packed with allies at the New College, who then ousted the school's president. Students across the state have repeatedly protested DeSantis's actions.
He tried a similar move with Disney, also installing an ally-packed governing board. But Disney fought back, and DeSantis is now locked into the weirdest legal battle ever.