Mississippi Passes Cruel Bill Banning Gender-Affirming Care for Trans Minors
The bill would block health insurance from covering gender-affirming care and put physicians at risk of having their licenses revoked.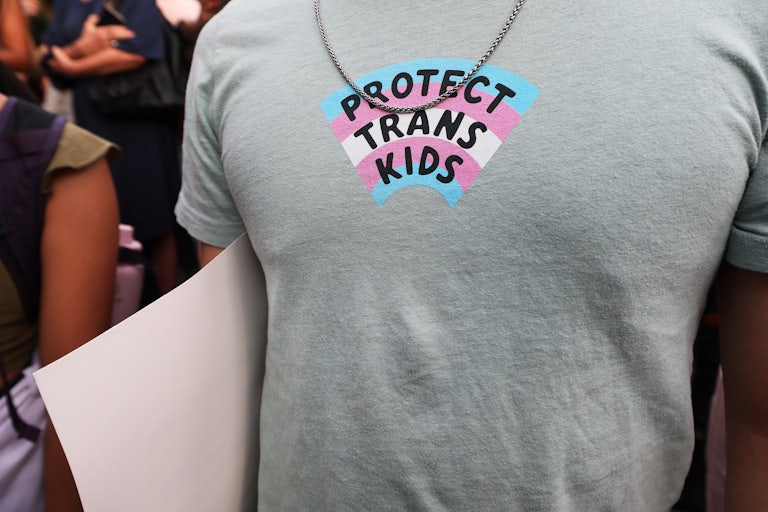 Michael M. Santiago/Getty Images
The Mississippi Senate passed a bill Tuesday banning gender-affirming care for transgender minors, the latest in a torrent of anti-trans legislation across the United States.
The bill is now headed to the desk of Governor Tate Reeves, who is expected to sign the bill, having expressed opposition to trans rights multiple times. If the bill becomes law, it will ban transition-related care for people under 18 and defund any public institutions that provide it.
The bill will block health insurance from covering gender-affirming care for minors, and Medicaid from reimbursing or covering the procedures. Physicians could have their licenses revoked for providing such care, and anyone claiming to have experienced harm by those doctors would be allowed to sue them for up to 30 years after the event.
The bill will also ban gender confirmation surgeries. But as the Mississippi Free Press noted, House lawmakers admitted while voting on the bill in January that they were not aware of any trans state residents receiving such surgeries.
LGBTQ rights groups slammed the bill. "No children are undergoing surgeries in this state. There are not even options for bottom (genital) surgeries for adults in this state. And anyone under 18 who is placed on gender-affirming medication undergoes a thorough and lengthy multidisciplinary evaluation prior to ever reaching the point of taking medication, during which time parents are always involved," said Stacie Pace, a doctor at Spectrum: The Other Clinic.
"This problem [lawmakers] perceive with trans youth getting procedures done simply doesn't exist."
Rob Hill, the state director of Human Rights Campaign Mississippi, also criticized the Republican lawmakers who passed the bill. "Politicians who don't have an ounce of medical training are interfering with our rights as parents and acting as if they know how to raise and support our children better than we do," he said.
"Attacking LGBTQ+ Mississippians will not solve any problems or make life easier for working folks in this state. The only thing it will accomplish is to further demonize and alienate transgender kids."
Mississippi's bill is the third measure banning gender-affirming care for minors this year alone, after Utah and South Dakota. All three bills are part of an absolute deluge of anti-trans legislation across the country, from bills banning coverage of care to forbidding trans girls from playing in girls' sports.
Lawmakers usually argue they are implementing such legislation to protect children, but a study published in January found that trans and nonbinary teenagers who receive gender-affirming care have significantly less depression and anxiety and more satisfaction with their lives than before treatment.
The study, which was published in the New England Journal of Medicine, found that almost 70 percent of participants who experienced severe depression saw it drop to moderate or even minimal levels after two years of hormone therapy. Participants who had mild depression experienced subclinical levels after treatment. And almost 40 percent of participants who had clinical anxiety saw it fall to the nonclinical range after treatment.