Ron DiSaster Loses $1 Billion Disney Project Days Before 2024 Announcement
Congrats to Ron DeSantis and his dumb "war on woke"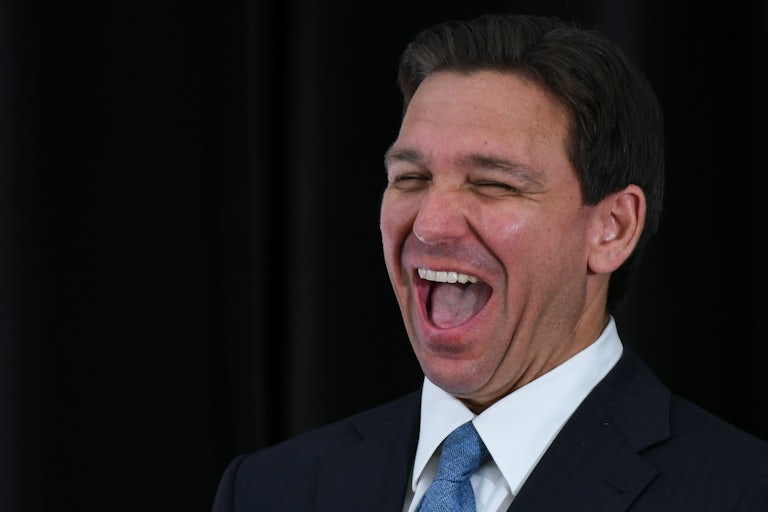 Paul Hennessy/SOPA Images/LightRocket/Getty Images
Ron DeSantis's childish attacks on Disney have now led to his state losing out on a $1 billion project.
On Thursday, the company announced that it was pulling the plug on a massive office complex scheduled to be developed in Orlando. According to the Florida Department of Economic Opportunity, the project would have hosted more than 2,000 jobs with an average salary of some $120,000, reports The New York Times.
Disney's move follows a yearlong clash between the massive company and the Florida governor after DeSantis was miffed by Disney's outward opposition to his notorious "Don't Say Gay" bill.

The project would have relocated over 1,000 employees to the new complex; The New York Times reports that while some employees were not eager to do so, Disney persisted due to a tax credit it would have received that would've had the company securing as much as $570 million over 20 years for the development.
The company still has $17 billion worth of development planned for Disney World over the next decade, which would create some 13,000 jobs. "I hope we're able to," Josh D'Amaro, Disney theme park and consumer products chairman said in a memo Thursday.
The foreboding tone matches that of Disney CEO Robert Iger in an earnings call last week: "Does the state want us to invest more, employ more people, and pay more taxes, or not?" Iger's question was a warning shot sent amid DeSantis's escalating attacks against the company.
DeSantis has had a personal vendetta against Disney since the company dared criticize the state's "Don't Say Gay" law last year. Last week, he signed a bill to specifically subject Disney World's monorail system to enhanced state inspections and regulations. DeSantis has also canceled Disney's long-standing agreement with the state to self-govern its resort.
Incidentally, DeSantis is reportedly set to finally announce his bid for presidency next week. Not sure if one's ideal runway to a bid involves dropping a $1 billion bag for your state, a series of robotic public appearances, getting in a race-to-the-bottom argument with your main opponent about who is worse on abortion, and having your endorsed mayoral candidate historically lose to a Democrat!