Florida Judge Blocks Extreme Anti-Trans Law: "Gender Identity Is Real"
The law banning gender-affirming care for minors has been temporarily blocked.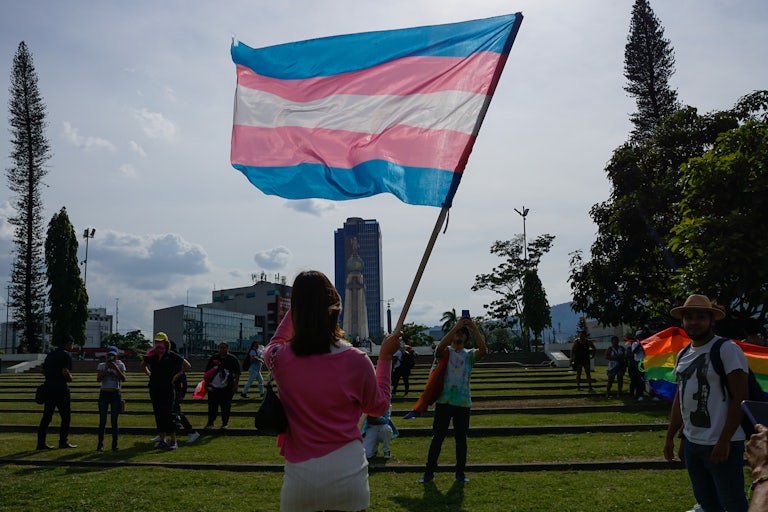 APHOTOGRAFIA/Getty Images
A Florida judge on Tuesday temporarily blocked a law banning gender-affirming care for minors, ruling there was "no rational basis" for the measure.
In addition to banning care for children, the law, which Governor Ron DeSantis signed last month, also makes it significantly harder for trans adults to access care. Medical facilities could lose their license if they offered health care to trans or nonbinary children.
U.S. District Judge Robert Hinkle issued a preliminary injunction against the law on Tuesday, meaning it is blocked while lawsuits against it play out in court. Hinkle cited multiple doctors who testified against the law that "denial of this treatment will cause needless suffering for a substantial number of patients and will increase anxiety, depression, and the risk of suicide."
"There is no rational basis for a state to categorically ban these treatments," he wrote.
This detail gets at the heart of the main Republican argument for blocking gender-affirming care. They argue they are protecting children, but these laws actually put LGBTQ people of all ages at risk of more harm, both physical and mental.
While the injunction only applies to the three immediate plaintiffs in the suit, legal principle would prevent the law from being applied to other people, legal expert Alejandra Caraballo explained. The injunction should also ensure adults can access care, although Florida may argue otherwise because the plaintiffs are all minors.
Hinkle's injunction does not block the most horrifying part of the law, though. The measure allows the state to take custody of a child if they are being "subjected to or threatened with" gender-affirming care, which was categorized as a form of "physical harm." Caraballo explained to The New Republic that technically, a state cannot be sued, so state officers in charge of enforcement are sued, instead.
Since there is no state officer in charge of enforcing custody, that particular provision cannot be addressed in this lawsuit. It can only be blocked once it is challenged directly during the legal process.
Tuesday's ruling "would provide a lot of persuasive basis for challenging it if it comes up in actual family court," said Caraballo, but people might not have the means or resources to use this as a defense.
"It creates a chilling effect" that could scare people away from seeking their still-legal care, she added.
In his 44-page ruling, Hinkle systematically dismantled all arguments that had been made in favor of the law, starting with the fact that "gender identity is real" and trans people do not choose to identify a certain way. That is who they are.
Hinkle's decision also called out a Florida Republican legislator who called trans people "demons," as proof of the bigotry the community faces.

Hinkle pointed out that the state could not overrule parental rights in deciding what medical care was appropriate for their child, nor could they remove an adult patient's right to make their own decision about treatment, especially since Florida had not proved that gender-affirming care is dangerous. "There are well-established standards of care for treatment of gender dysphoria," he wrote. "Not a single reputable medical association has taken a contrary position."

Florida had provided "nonexistent" evidence to the contrary and argued that the medical professionals who testified against the bill were acting out of "good politics, not good medicine."
"If ever a pot called a kettle black, it is here," Hinkle wrote. "The statute and rules were an exercise in politics, not good medicine."
This post has been updated.