Two States Have Banned Health Care for Trans Kids in Less Than 24 Hours
Anti-trans legislation is picking up speed across the country. Is anyone paying attention?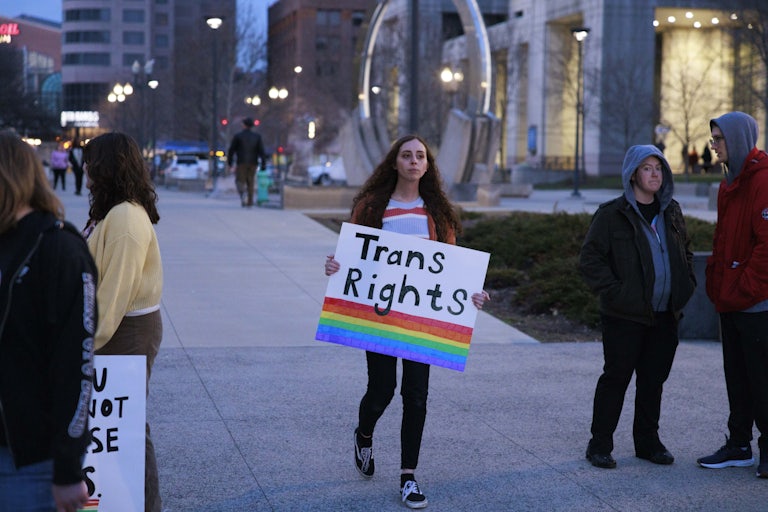 Jeremy Hogan/SOPA Images/LightRocket/Getty Images
A protester outside the Indiana Statehouse on February 20
Indiana and Idaho banned gender-affirming care for transgender minors in less than 24 hours, as a Republican-led nationwide assault on trans rights appears to be ramping up.
Indiana Governor Eric Holcomb signed Senate Bill 480 into law Wednesday, despite protests from hundreds of medical professionals and trans kids and their families. The law bans all gender-affirming care, including hormone therapy and puberty blockers, for people under 18. It also bans surgical interventions, despite repeated testimony that no such surgeries were performed on minors in the state.
Minors currently receiving gender-affirming care can continue to do so until the end of the year. Health care providers who break this law will be subject to discipline by their regulatory board.
Less than 24 hours before, Idaho Governor Brad Little signed a similar bill into law. House Bill 71 bans all gender-affirming care for trans kids, and makes it a felony for a medical professional to help a minor seek such treatment. Those care providers could face a $5,000 fine.
The ACLU announced Wednesday that it has filed lawsuits against both laws, calling the Indiana measure "cruel and unconstitutional" and the Idaho one "clear government overreach and … unacceptable" in separate statements.
These two laws are the latest in a Republican-led onslaught of anti-trans legislation that only seems to be picking up speed. Just last week, Kentucky lawmakers overrode Democratic Governor Andy Beshear's veto of one of the most extreme anti-trans measures in the country, forcing the legislative package into law.
Beshear had warned the measure would cause an "increase in suicide among Kentucky's youth."
Republicans in Texas, Florida, and Kansas have pushed anti-trans measures in the last few days. North Dakota's Republican-led legislature and Republican governor are in a standoff about yet another.
The bills' backers argue that they are protecting children by barring them from gender-affirming care. But major medical organizations, including the American Academy of Pediatrics, support giving gender-confirming care to children, deeming it medically necessary and even lifesaving.
Gender-affirming care actually decreases the amount of depression and anxiety that trans and nonbinary teenagers feel. It also makes them less likely to consider suicide. But targeting LGBTQ people through legislation only demonizes them and puts the community at higher risk of violent attacks.