Trump Incriminates Himself Further in Absurd Reaction to Classified Docs Tape
Asked about his voice on the recordings, he replied, "My voice was fine. What did I say wrong?"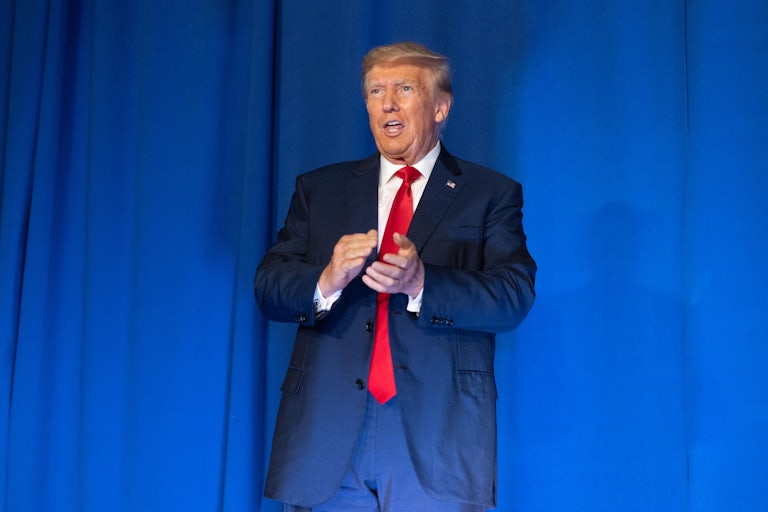 Scott Eisen/Getty Images
Getting away with crimes is difficult enough, but it's even harder when you compulsively say out loud in very clear terms that you did them. Such is the lesson Donald Trump is learning, after the release of an audio recording corroborating the federal accusations the twice-impeached former president faces for stealing classified government information and flippantly showing them off to an array of non-cleared individuals.
Indeed, though the twice-indicted and liable for sexual abuse former president has the right to remain silent, he's never really exercised that, has he? And the pattern continued during an interview with Fox News on Tuesday.
"I had a whole desk full of lots of papers, and mostly newspaper articles, copies of magazines, copies of different plans, copies of stories having to do with many, many subjects," Trump said. "And what was said was absolutely fine, and very perfectly, we did nothing wrong. This is a whole hoax."
As a reminder, Trump was indicted on 37 counts for mishandling classified documents, and is accused of even being "personally involved" in packing up boxes full of classified information as he departed the White House for Mar-a-Lago, where the boxes were then hidden everywhere from the ballroom to the bathroom. He allegedly showed the documents—sourced from agencies including the CIA and NSA—to staff members, writers, and even a representative of his PAC.
Court documents cited one recording in particular in which Trump allegedly showed individuals without security clearance "highly confidential" and "secret" documents related to a Pentagon plan for a potential attack on Iran. He notes in the recording he "could have declassified" them had he still been president. CNN released the recording in full on Monday, corroborating what the indictment already detailed: Trump is heard showing "a big pile of papers … off the record … [from] the Defense Department" to individuals without clearance.
Pretty straightforward, yes? You'd think. Yet Trump's defense now involves doubling down, saying indeed he had tons of papers, copies of different plans, and it was all "absolutely fine, and very perfectly."
That wasn't enough though. Asked about his own voice on the recordings, Trump's ego still somehow activated against the logic of the actual question. "My voice was fine. What did I say wrong?" he asked, before addressing the actual stakes of the question: whether he's a criminal.
"We have a lot of papers, a lot of papers stacked up. In fact, you hear the rustle of the paper," Trump assures us. Why, exactly, he's reminding the public that he had "a lot of papers" and encouraging them to wonder what those "papers" were is unclear.

If it's all to be performance art, Trump's conclusion that "nobody said I did anything wrong other than the fake news, which of course is Fox too," is a nice cherry on top.