Florida Judge Strikes Down State's Egregious Anti-Drag Law
The judge shut down the law as nothing more than an attempt "to suppress the speech of drag queen performers."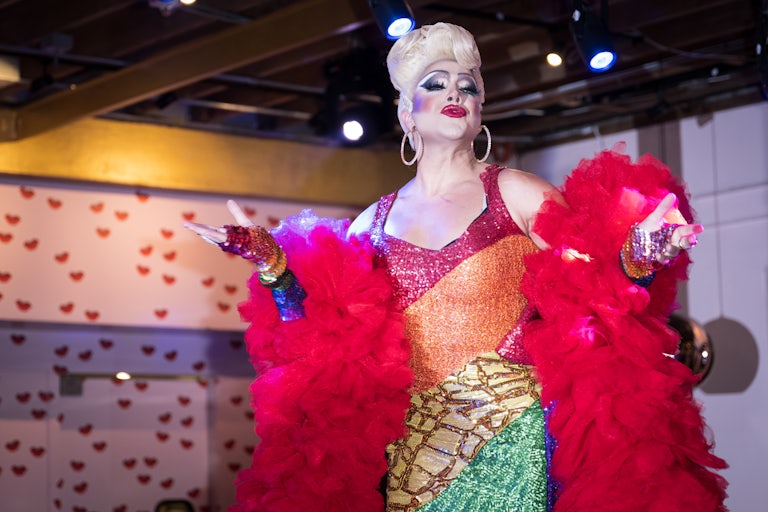 Jason Koerner/Getty Images
Drag Queen Athena Dion performs onstage at the 2023 National LGBTQ Task Force Gala Kick-Off Event in Miami.
A Florida judge has struck down the state's extreme anti-drag law, calling it "specifically designed to suppress the speech of drag queen performers." And with his ruling, public drag is again legal in Florida.
District Judge Gregory Presnell issued a preliminary injunction on Friday, stopping the state from enforcing the law just as Pride Month comes to a close.

Supporters of the extreme legislation claimed that it would protect children, and Presnell directly shut down those arguments in his ruling. "Existing obscenity laws provide … the necessary authority to protect children from any constitutionally unprotected obscene exhibitions or shows," he wrote. He also called out the "appetite for finding obscenity in drag performances, even where undercover state agents have reportedly concluded none exists."
Florida's law, which took effect last month, was so vaguely worded and so broad in scope that experts were worried about how it would be applied.

The legislation sought to ban people under the age of 18 from attending drag shows, but used the term "adult live performance" instead. Republican lawmakers admitted that the unclear language could be used to prevent high school students from attending plays like The Rocky Horror Picture Show or the musical Hair.
The law attempted to enforce the ban by targeting businesses: Any establishment that violated the law could have its license suspended or revoked, in addition to being fined or charged with a misdemeanor. One violation would incur a $5,000 fine, and each incident after that would mean a $10,000 fine.
The bill also targeted Pride celebrations specifically by preventing a government entity from issuing permits to an organization that may host an "adult live performance." If a violation occurred, the text said, the person who issued the permit could be charged with a misdemeanor—effectively targeting all LGBTQ people by scaring government employees from issuing permits for Pride.
Republican lawmakers, again, did not seem to have a big problem with that; targeting Pride celebrations, rather, seemed to be a feature of the bill as opposed to a bug. One politician admitted on the floor in April that the bill was needed even "if it means erasing an entire community."
The legislation had its intended effect: LGBTQ organizers in Florida began canceling Pride celebrations even before the bill was signed into law, citing fear of the state's new political climate.
Presnell's ruling on Friday is yet another blow for the Republicans and far-right activists nationwide who have made drag performers their new favorite target. Earlier this month, a judge also struck down Tennessee's anti-drag law, deeming it unconstitutional. The defendant in that case has vowed to appeal the ruling, and a lengthy legal battle may also be in store for Florida.